Over 1600 attend Mayo Careers Fair / Aonach Gairme Mhaigh Eo 2020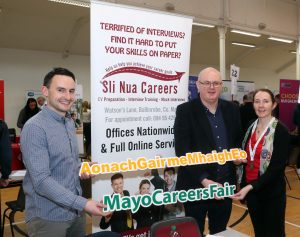 The recent Mayo Careers Fair / Aonach Gairme Mhaigh Eo 2020 held in GMIT, Castlebar, was a huge success with an attendance of over 1,600 students, lifelong learners and family members – and now the multi-agency organising committee are planning to expand it still further in 2021.
Over 50 stands, including third-level and Post-Leaving Certificate colleges, apprenticeship providers, employers and career service providers, exhibited at the fair.
The event was organised by Mayo Local Community Development (LCDC) Education & Training Working Group, and was supported by Mayo County Council/Mayo.ie; MSLETB; the HSE; Mayo Local Employment Services; Social Inclusion and Community Activation Programme (SICAP); GMIT; Údarás na Gaeltachta; South West Mayo Development Company; Mayo LCDC; and Mayo North East LEADER Partnership.
"It was choc-a-bloc all day long. Over 1,600 people came to visit the wide range of stands and we got tremendous feedback. Next year we will have some further tweaks to further enhance this popular event," said Pat Howley, Chairperson, the LCDC Education & Training Working Group.
"We also had a broad range of speakers talking about budgeting for college, grant aid and funding, overseas study options, apprenticeships, mental health care, nutritious and budget-friendly food, alternative routes to college, scholarships and bursaries," he added.
"The 2021 event has been pencilled in for Saturday, January 9, and many of the exhibitors have already confirmed their attendance.  This year, we emphasised the value of the fair to lifelong learners, and this proved to be a very popular feature – we will be expanding that element next year too."
A full roster of speakers delivered talks and presentations various ancillary rooms in the venue throughout the day.
"The Mayo Careers Fair is a fantastic example of local organisations pooling resources to provide practical up-to-date information on potential educational paths and career options for prospective learners," said Chief Officer of Mayo LCDC, Síofra Kilcullen.
To secure your space for next year, email mayocareersfair@gmail.com or call 083 443 1458. There is no charge to exhibit.
The Social Inclusion and Community Activation Programme (SICAP) 2015-2017 is funded by the Irish Government and co-funded by the European Social Fund and includes a special allocation under the Youth Employment Initiative. For further information, please visit the Pobal Website www.pobal.ie.
The organising committee comprises Pat Howley, Michael Gill, Anne Ronayne, Donal Hoban, Pamela Ní Thaidhg, Declan O'Callaghan, Orlagh Denneny, Tim Rogers, Lorraine Staunton, Deborah Coyle and Liam Horan.