[tabgroup]
[tab title="Rafael Beltrán"]
My name is Rafael Beltrán. I'm a Doctor of Psychology specialising in business and sports psychology. If you are reading this, it is very likely that you want to move to the next level in your career.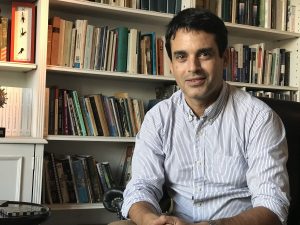 Most changes people make in their careers tend to be lateral as a response to the discomfort of their current situation.
However, moving to the next level – making a big change – involves a more thoughtful and strategic process. That's what I've been doing for more than 20 years: helping executives, professionals, business people and athletes plot their way to the next level.
The content I write is result of work I have done with people like you. On the one hand, everybody is governed by the same rules of performance but there are, of course, enormous variations in the specific example from person to person. It can help you think but keep in mind that your own situation is unique. For example, creating synergy with others may be a valid action – let's call this the rule of synergy – but it applies differently if you are introverted or extroverted.
Understanding this unique dynamic between you and the rules of performance is your challenge.
If your goal is to take that jump to the next level, I am here to help you. Please note, my first language is Spanish, so if my English is a little laboured in places, please excuse me.
[/tab]
[tab title="Blog" ][bloglist posts="5″ show_title="no" title="Latest News" categories="rafa-beltran-blog/"]
See all Cork city Blogs HERE 
[/tab][/tab]
[/tab]
[tab title="Contact"]
I work from the Ballinrobe, Co. Mayo, office of Sli Nua Careers, and also remotely by Skype, Zoom, What's App and phone.
T: +353 86 815 9273, email admin@slinuacareers.com 
[/tab]
[tab title="Testimonials"]
You can read Rafa's testimonials HERE
[/tab]
[/tab]
[/tabgroup]