When I'm not at the desk, I can usually be found at a sports field somewhere in Co. Mayo. If I am not coaching on the pitch, I will be supporting from the sideline.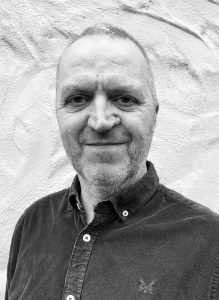 With two teenagers, there is always something on, and living in a rural area means that the car becomes a well-used taxi, full of sports kits and a selection of balls.
The advantage of this though is the friendships that are made through sports and the opportunity to explore the far-flung reaches of the county. If you want to know how to get to a Gaelic, rugby or soccer pitch somewhere, I'm your man.
Me-time is as simple as a walk with the dog followed by a cup of coffee. I have always been a keen gardener and amateur builder so there is plenty of work on the go in the garden or workshop.
My latest venture is taking up beekeeping, which has always fascinated me. I love to see the bees going about their work and returning to the hive loaded with pollen.
Whenever we can, we love time spent around the table sharing a meal with family and friends: cooking and food has always been a passion of ours.
I like to keep active in mind and body. I love reading, biographies, historical epics, travel writers and Swedish crime novels. I play badminton regularly and I set up and ran a Walking Football group for active older people pre-Covid.