New career programme will help migrant women access career opportunities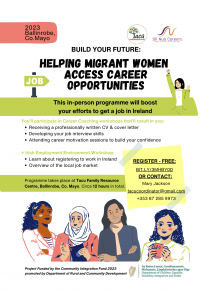 A new career programme entitled Build Your Future: Helping Migrant Women Access Career Opportunities is being launched to assist nine migrant women and three non-migrant women in the Ballinrobe / south Mayo area to access the workforce.
The programme is designed to help the women overcome the unique challenges they face when job searching in Ireland. The project is funded through the Communities Integration Fund promoted by the Department of Rural and Community Development and will be delivered in person at Tacú Family Resource Centre, Ballinrobe.
"The Irish job market can be complex and difficult to navigate, especially for migrant women. The programme aims to provide a comprehensive understanding of the Irish job market and legal requirements for working in Ireland, and useful job searching strategies," said Mary Jackson, Manager, Tacú Family Resource Centre.
"Each participant will work with career coaches to develop a professional CV and cover letter, increasing their chances of securing employment. The programme also aims to improve their confidence, prepare them for interviews and equip them with the necessary skills to advance in their careers."
The involvement of three non-migrant women in the programme will provide them with valuable skills while supporting the integration of migrant women locally. The project promotes social inclusion, community cohesion and diversity.
"It is open to all migrant women, regardless of background or education level. The Build Your Future programme is a significant step in promoting the inclusion of migrant women in Irish society. The Mayo Migrant Strategy recognises employment as a central part of the integration process and highlights the contributions migrants make to the host society," added Mary.
"We look forward to seeing the positive impact that this programme will have on the participants and the wider community. Running the programme in person will promote networking and the building of important relationships for career advancement. There will be one programme engagement per week for six consecutive weeks."
Tacú is partnering with career training agency Slí Nua Careers to devise and co-deliver the programme. "As a migrant woman, I appreciate the challenges that migrant women face when trying to find a job in Ireland, and I will be bringing my experience to bear in this programme," said Maureen Nalubega, Slí Nua Careers.
Potential participants in the programme can express their interest here: www.slinuacareers.com/apply-buildyourfuture  or by contacting Mary Jackson, Mary Jackson tacucoordinator@gmail.com / +353 87 285 9973.
About Tacú Ballinrobe Family Resource Centre
Tacú Family Resource Centre is committed to promoting social inclusion and equality, and to providing a safe, supportive and welcoming environment for all members of the community. The organisation works closely with local organisations, schools, and community groups to identify the needs of the community, and to develop innovative and effective programmes that address these needs.
About Slí Nua Careers
Slí Nua Careers, founded in 2010, is one of Ireland's foremost career training agencies. They have a range of services available to job seekers and career changers, including career coaching, interview training, CV preparation and more.