Ideas for change can help your case
By Liam Horan, Managing Director, Sli Nua Careers
Q: At a job interview last week, I was going grand until I got thrown by this question: tell me one thing you would change about your current job? I didn't know what to say. I am happy enough in my current job – I'm only moving because I am changing city. Any pointers on what I might have said? (LC, email).
A: We put this question to four of our career coaches, LC.

MARK MCDONALD, DUBLIN NORTH: Definitely a tricky question to navigate. I think you have provided a perfectly good answer already in your question. You are happy in your current job and are seeking a move due to your moving to a new city. I would suggest you outline this fact at any further interviews and explain the logistical problems of staying in your current role after you move location. People change jobs and careers for many reasons, and not all are based on career progression. You need to articulate your reason in a clear and concise manner.
FINTAN DUNNE, SLIGO: LC, this is a question that you can prepare for and have an answer ready to roll. This answer should focus on one issue only and inform the board how you would deal with same. The answer should be short and to the point.
In my previous employment there were many issues which impacted on how we did our job. Many of them were administrative procedures which became less relevant as time went on.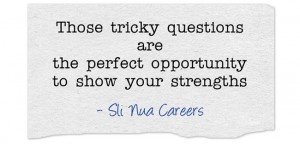 This is your chance to highlight something of that nature and explain how you would resolve it. For example, allow more time to complete a routine task that all employees must follow on a daily or weekly basis because recently more information must be provided but the time allotted does not allow for this.
Adjust arrival and departing times as to avoid congestion at the entry and exit points. Place suggestion or comment boxes in areas where employees gather. Your answer to this question will inform the board that, firstly, you are aware of other issues within your present employment and you have the ability to recognise, assess and resolve them.
MICK O'CONNOR, ATHLONE: LC, your approach to this question should have conveyed an overall positive attitude about your current job. Anything less would have come across as being negative. As you said, you are happy enough in the position. Remember all you were asked for was to identify one thing which you would change.
Look on this as being asked to make one recommendation which could further improve your job or working environment. So taking this approach you could have, for example, identified an upgrade of the IT system to improve your organisation business processes.
Also if you feel that you were capable of handling additional responsibilities, this could have reinforced to the interview board your professionalism, work ethic and awareness. The question itself was straightforward which required a simple but relevant response.
MARY O'BRIEN KILLEEN, CLAREMORRIS: Here is one possible answer: "In my current role I would like to be chosen to lead a team to conduct a project. I am an excellent organiser and get the best out of people I work with – leading a project would excite me. I am comfortable working to deadlines. I feel I would be a success in a leadership role."
If you would like to make a booking with any of our career coaches mentioned above, see HERE for CV Preparation and Interview Training.