How to have an effective CV despite job gaps
By Liam Horan, Career Coach & Managing Director, Sli Nua Careers

Q: How do you build a 'good CV', if you have lots of gaps in your work history? I know that before selling yourself face to face in an interview situation, you must first persuade them that you're a valid candidate. I feel with my CV I'm not going anywhere! Any suggestions as to what I should do? Thanks. (SF, email).
MARK MCDONALD, DUBLIN NORTH: SF, the underlying principle of a good CV is to have a document which accurately conveys your key skills, competencies and attributes. It highlights your suitability for the role in question based on matching your experience and qualifications to the criteria contained within the job spec. If you have a career history containing gaps, you still need, if possible, to maximise any achievements within those gaps.
Were you a home maker or carer during those periods and , f so, did you undertake any part-time training, study or involve yourself in voluntary or community work?
Could some of the gaps have occurred as a result of a return to full-time education or training?
Maybe you took time out to travel and see the world?
Or, like so many over recent years, did you fall victim to unemployment?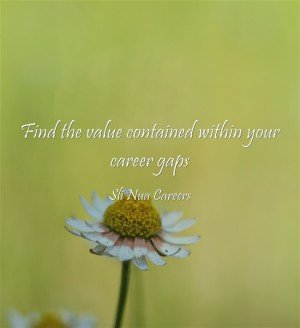 Any of the above examples could be used to explain a gap in your career history. It's best to close off and explain gaps on your CV but remember to focus on any positive inclusions which you could add to the timeline.
It can sometimes be difficult to articulate your achievements and word them constructively on a CV. Start with a blank piece of paper and begin to outline everything you have achieved either through education, sport, community or voluntary work, hobbies, interests, travel or any other topic which tells the reader something about you.
Find the value contained within your career gaps and word it so as to add value to you as a potential employee.
SIOBHAN O'MALLEY, BALLINROBE: The fundamental dilemma you face here, SF, actually reflects the universal challenge of writing a good CV – how to make yourself look good. In your case, the challenge is to put a positive spin on periods when you were out of work.
My question to you is: what did you do during these times?
How you used your time when out of work can say as much, and perhaps more, about you as describing your various work roles. Certainly, it's not ideal to have large gaps in your work history, but if you have been gainfully occupied and productive during these periods then you have an opportunity to turn a perceived negative into a positive.
Perhaps you acquired a new skill, cared for an infirm family member, achieved a life-long goal of completing 26 marathons in 26 days or volunteered with the local charity shop.
During the tough times of the last economic recession, the charity sector thrived as a result of the influx of highly qualified, highly motivated volunteers. In the absence of paid employment, many graduates volunteered. Just because you were not being paid to work, does not mean your work was unworthy or should not be considered by prospective employers.
Liam Horan is Managing Director of Sli Nua Careers Ltd. You can read more blogs from Sli Nua Careers coaches HERE, and make a booking for CV Preparation and Interview Training.