Cover letter – should we use it or lose it?
by Liam Horan, Managing Director, Sli Nua Careers

Q:  I am applying for a job. I've done up my CV. Do I really need to put a cover letter in with it? And, if I do, what tips have you got? (DC, email).
A: We asked three of our career coaches to give their thoughts on this question.
MARY O'BRIEN KILLEEN, CLAREMORRIS: DC, I strongly recommend you put in a cover letter. A cover letter can capture the reader's attention which will then allow them to focus on the contents of the CV. In the cover letter you are requesting them to look at your CV and also telling them why you are applying for the job. It focuses on your experience and why you are a suitable candidate for the role. I would keep the content of the cover letter to a maximum of three quarters of an A4 page.
DEIRDRE MAY, LIMERICK: Cover letters are essential: they are like the icing on top of a cake and a well-written cover letter can get your CV to the top of the pile.
If I had only one piece of advice to give you it would be short: as in shorten your letter, keep it brief. Remember your CV can expand on your education/work experience etc.
So write a brief letter that targets the job on offer. Tell the hiring manager what attracts you to the role and why you want to work for that company. Tell them about YOU, identify yourself and what specific skills you have to offer.
Let them know that this job and you are the perfect fit.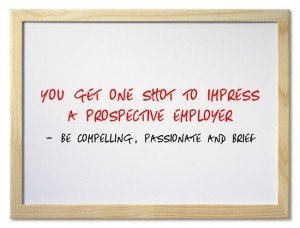 MARK MCDONALD, DUBLIN NORTH: DC, the simple answer is yes. The vast majority of employers would expect a cover letter to accompany a CV.
Why, you may wonder?
The reality is that they are two very different documents. Your CV should clearly outline you key skills, competencies and attributes. It gives an account of your career history and educational achievements and it highlights which skills are relevant to the application being made.
While your CV should demonstrate how your skills and experience match the employer criteria for the role, your cover letter should explain why you want it and how you think you're the right fit for that organisation.
It's not a copy-and-paste from your CV. It should be written with a specific application in mind.
Demonstrate your interest in the role and tailor your cover letter with the hiring manager in mind. What type of person does her/she want to recruit? Your research into the role and organisation should help you to answer this.
Ensure that the person reading your cover letter will clearly see that it has been written for this particular application and is not just a generic copy of your standard cover letter.
A good cover letter will entice an employer to read your CV, so focus on the impact of the first impression.
Cover letters won't get you a job but a good one will get you an interview. A cover letter represents your first impression with a prospective employer and you don't get a second chance to give a good first impression so be compelling, passionate and brief.
If you would like to make a booking with any of the career coaches mentioned above, see HERE for CV preparation or interview training.