How to handle difficult questions about previous employment
By Liam Horan, Managing Director, Sli Nua Careers
Q: I am aware that I should not say anything negative about a former employer in a job interview. However, I quit my last job because of disagreements with my boss over certain issues with how things were done within the company. He agreed he was partly to blame for our difficulties. Apart from that, I had a good time at that company and still enjoy reasonably good relations with everyone, including the former boss. I have taken some time away and am now ready to hunt for jobs again. The questions I want to be very careful with are "why did you leave your former job?" "why did you leave before you found another one?" (DH, email)

MARK MCDONALD, DUBLIN NORTH: DH, you're correct in saying that it's best not to introduce negative opinions on a previous employer. It can set the wrong tone at interview.
You need to be strategic when talking about your reasons for leaving. As you said, there are many positives about the company and, indeed, your former boss. I would focus on those points during an interview and introduce a dialogue explaining that the direction the company was taking was not one that suited your long term career aspirations.
You need to balance honesty with discretion at interview. Employers don't like the idea of employees speaking negatively about the organisation.
An honest approach should be based on stating that although the company was a good place to work, you reached a point where you realised that your skills and talents didn't suit the planned company direction.
You can also explain that you chose to leave and take time out to assess your options and plan the next step of your career.
LIAM HORAN, BALLINROBE: The temptation to criticise the former employers can be very strong – as time passes, the negativity you feel will likely dissipate but you are particularly vulnerable right now as you seek your first job since the last one went south.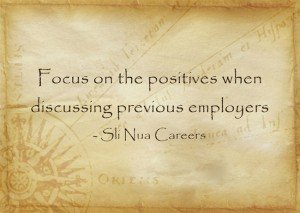 Play it with a straight bat. "There was a disagreement over certain fundamental issues within the company. I had a view of how the business should progress, and I felt the company had a different view, and, in the end, I decided it was better that I leave to advance my career elsewhere," could be one way of covering it.
I think it is important to make it clear that you left rather than you were pushed. By maintaining it at the level of 'how the business should progress', you are keeping it professional rather than personal (even if these things tend to become personal no matter what).
A key point, I feel, is to illustrate that you are not carrying baggage. Something happened, it's over, move on Roy. Demonstrate that you are back on the horse and eager to tackle the next challenge in your career. Ultimately, employers want to know you're ready to do the job they need done.
Don't ventilate all the reasons why you felt the company was going down the wrong road. Don't expect the interview panel to agree with you that were wronged – and, if they do agree with you, be doubly careful because they could be lulling you into a false state of security where you might jettison your chances by being far too critical of your previous company. Loose lips sink ships.
If you would like to make a booking with any of our career coaches mentioned above, see HERE for CV Preparation and Interview Training.