Career opportunities within the construction sector
By Mark McDonald, Career Coach,  Sli Nua Careers

The Irish construction sector has risen from the ashes of recent economic turmoil and once again presents a variety of career opportunities for people wishing to begin or recommence their career.
We are now witnessing a skills shortage across several trades and qualifications which need to be filled in order to meet today's building demands. As of January 2016, 35,000 social housing units need to be built throughout the country. The domestic housing supply can no longer meet the demands of an available market wishing to purchase or rent a property.
Economic growth has been mirrored by major corporate announcements heralding the building of new factories, data centres and office complexes. Apple, Facebook, Bristol Myers Squibb, Alexion and Mylan are some of the global giants who are investing significant sums in new building projects.
This translates to an urgent need for key skills to be recruited back into the construction sector.
So what types of opportunities are available? The good news is that opportunities currently lie in every aspect of the sector from entry-level trade apprenticeships, heavy plant operation and right up to project management, engineering, surveying and architecture.
A closer look at these career choices show opportunities for apprentice and qualified trades people in areas such as brick laying, carpentry, plumbing, electrical, painting and plastering. Qualifications in the operation of heavy plant machinery could present openings for those who are trained to operate JCBs, Excavators, Cranes and various other heavy plant equipment used on construction projects.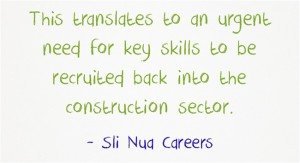 Management opportunities are available for those either qualified or currently studying for project management qualifications, materials management and quantity surveying. Other professional roles include civil, mechanical, electrical or chemical engineering, design, architecture, environmental management and health and safety compliance.
Available roles within supporting sectors include planning, auctioneering, building energy rating (BER), estate and property management, legal services, financial advice and mortgage services.
It's clear to see that the current and forecasted growth within construction does indeed present a wide array of career opportunity. Previous employees in the sector who emigrated during the downturn now see a viable reason to return home and recommence their careers.
School leavers can now consider a construction-based apprenticeship to offer long-term career possibility. Career progression possibilities for graduates entering the labour market with construction-based qualifications now sit within the context of a real and sustained employment environment.
Government policy aimed at addressing the urgent shortfall in available new domestic builds will soon be clarified thus complementing an already growing sector.
We advise clients at Sli Nua Careers who express an interest in the construction sector to begin researching available opportunities and align those to their skills and previous experience. We also support clients considering retraining or up-skilling in order to move into the sector and assist them in determining their best course of action.
The Irish construction sector has ridden out the recent economic storm and is now in full growth mode. This presents career opportunities now and well into the future for those thinking of 'building' their future.
If you would like to make a booking with any of our career coaches, see HERE for CV Preparation and Interview Training.