Tourism & hospitality sector opportunities in 2016
By Sabina Trench, Career Coach, Sli Nua Careers

Tourism Ireland is predicting a bumper year in 2016 – they predict 8.2million overseas visitors to Ireland this year, spending an estimated €4.2billion. This amounts to growth of between 4 and 5 per cent, which is very significant.
Earlier this month, the Irish Hotels Federation (IHF) announced that 69 per cent of hoteliers plan to take on more staff over the next 12 months. I spoke to two human resources managers in leading hotels, and one tourism industry expert, for an insight into this year's hospitality sector job opportunities.
Take a look at www.jobs.ie and it is clear that this sector needs chefs. Such is the demand, hotels and restaurants find it difficult to attract and retain experienced chefs. This is often a result of longer working hours, rural locations and seasonal work. Head chefs command pay packages comparable with senior management in other sectors: packages can include food sales bonuses, pensions and professional development.
Seasonal jobs for waiting staff will be available in 2016. With few barriers to entry, these jobs are often a source of student summer work, with on-the-job training. However, the preference is for hospitality course student placements. Turnover here isn't as high as you might expect, so competition is intense.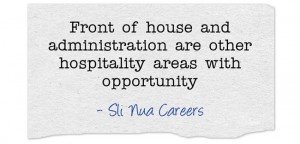 Experienced bar staff are always in demand, with the emphasis on experience. Visitors look forward to the authentic Irish pub experience. Often recruited through word of mouth, make sure you let people know you are experienced and available for work.
Front of house and administration are other areas with opportunity during the 2016 season. Experience on specialist booking or accounts software is an advantage, but often in-house training is provided. Languages can be useful here: however, fluency in English is essential and this applies to every aspect of this industry.
The spa and beauty sector took a hit during the recession but is now picking up, and full-time positions are available. To apply, you will need qualifications from bodies such as the Confederation of International Beauty Therapy & Cosmetology (CIBTAC) or the International Therapy Examination Council (ITEC). Extra courses, knowledge of products like Dermalogica or ELEMIS, and sales experience will give you an edge, as you can usually earn commission on product sales.
Job opportunities in fitness and leisure will feature in 2016, but the National Council for Exercise and Fitness (NCEF) qualification is seen as the minimum. Applicants generally have multiple fitness qualifications, so start up skilling if you haven't already.
If you work in sales and marketing, and managed to steer a business through the difficult years, chances are you'll be snapped up in 2016, as good people are hard to find. Expert knowledge of online marketing is a must to secure the jobs that will be available.
Managerial roles such as deputy and operations managers, events personnel and duty managers are always needed. Experience and ambition are vital. Make sure you are doing your best work, as opportunity might call at your door, but only if your name is associated with high performance within the sector.
The hospitality industry isn't for everyone. However, if you are flexible, hardworking and confident meeting people, it is replete with opportunity. A commitment to excellence in customer service is imperative. Many employers offer training opportunities to help ambitious staff move up the ranks. The Irish hospitality season is longer, pay rates have improved and there is a social aspect to the work that is very appealing.
So, where are these jobs? The familiar hospitality honey pots of the big cities and places like Kerry and Connemara are still hugely popular. However, the Wild Atlantic Way and Ireland's Ancient East have spread the opportunities to other areas outside the traditional tourism centres.
So while you may have to relocate, remember it will be a place that tourists have sought out for its natural beauty, friendly people and holiday atmosphere. Who wouldn't want to work in a place like that?
Useful resource, www.getalifeintourism.ie, the insiders' guide to working in the tourism industry.
Sabina Trench is a Career Coach with Sli Nua Careers, who have offices in Galway, Dublin, Limerick, Athlone, Sligo and Mayo, plus a full online service. Their services include CV preparation, interview training, personal statements and application forms.