U21 wins were great career moves in '83 and '06 – hopefully same in '16
Forgive us our shameless parochialism here – all Gaelic football is local, as you know.
On our window today we have a framed photo of a jersey with all the autographs of the 1983 Mayo u21 team on the border.
That Mayo team won the All-Ireland title in 1983.
It proved to be a great career move for all involved – people like Peter Ford (a fellow Ballinrobe man), John Maughan,Gabriel Irwin, Padraig Brogan, Noel Durkin, Sean Maher, Brian Kilkelly, John Finn, and others, went on to have outstanding senior careers in the green and red.
The final went to a replay in Irvinestown. I was 15 in 1983 and I am virtually certain going to that replay against a Dermot McNicholl-powered Derry was my first time to cross the border into Northern Ireland.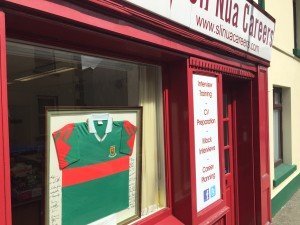 A few years back, I gave that Mayo team a hand when they were holding a reunion and the players and manager John O'Mahony kindly presented me with this framed, famed jersey. It is something I treasure very much and it comes out onto our business window on Glebe Street, Ballinrobe, at the latter stages of any promising Mayo campaign.
In 2006, winning an All-Ireland U21 title proved to be an equally rewarding career move for Keith Higgins and his peers.
My club mate Kenneth O'Malley (Ballinrobe), Trevor Howley, Ger Cafferkey, Keith Higgins, Chris Barrett, Tom Cunniffe,  Colm Boyle, Barry Moran, Seamus O'Shea, Aidan Kilcoyne, Mark Ronaldson, Michael Conroy and Enda Varley all went on to star on big championship days for Mayo seniors – indeed, those players continue to be the backbone of the Mayo senior football team.
Here's hoping that a) Mayo u21s win on Saturday and b) it will prove to be a hugely rewarding career move for all involved, including our locally-based captain Stephen Coen of the Hollymount-Carramore club.
Maigh Eo abu. Our normal impartial blogging service will resume shortly.
Liam Horan, Managing Director, Sli Nua Careers