Let your STAR shine by making your answers relevant to 'Them'
By Liam Horan, Career Coach & Managing Director, Sli Nua Careers

Let your STAR shine by making your answers relevant to 'Them'
Competency-based interviews are not quite all the rage, but they have certainly grown in popularity and the indications are that they will continue to become more commonplace, writes LIAM HORAN, CAREER COACH, SLI NUA CAREERS.
Yet, many candidates have never heard of them, or, if they haven't, they are unfamiliar with how they might approach them.
The tried and trusted answering style for competency-based interviews is the STAR method. We have written about this here previously and there is a world of information on it available on the internet.
The STAR method leads you to tell one story from your career that ultimately tells a larger story. They ask you to 'tell us about a time when you had manage a difficult situation' in the hope that by telling one time they will learn about how you generally manage difficult situations.
STAR is the acronym representing the four steps of such an answer – Situation, Task,
Action and Result.
The situation was…
My task was…
My action was…
The result was…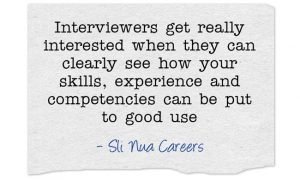 To get the most out of the addition we are now about to propose in this column, it might be a good idea to google 'STAR method competency-based interviews'. To STAR, we recommend adding one other letter – T. For 'Them'.
When you've completed the story using the STAR method, consider adding a fifth part – the 'Them' – that illustrates how that story, as described under STAR, will translate into something useful for Them i.e. the organisation where you are now seeking employment.
Interviewers get really interested when they can clearly see how your skills, experience and competencies can be put to good use in their environment. That's their chief area of concern.
If you want them to know how what you have done will stand to you in the new role, say it – don't trust it to clairvoyance.
So, after telling them the result in the quick run-through out lined above, go a step further to say: "I am confident I can manage difficult situations for you, and I know that such situations are inevitable given the nature of the work here, and the different types of relationships that apply here…" – you could add in some further detail here about the new role to show you have thought it all through, and that you know what they need in the position.
The 'Them' represents the future – the 'what I am going to do for you' element of the answer. 'What I am going to do for you' is a good place to visit during most interviews – if the panel lets you, sometimes they might cut you short – because this is where you get to show how your skills, experience and attitude can be applied to the new role. Typical competency-based questions come under the following headings and might be asked in the following way:
Flexibility:
Tell me about a time you altered your work practices to fit in with what was expected of you from your employer.
Customer service:
Give detail on a time when the level of customer service you provided went above and beyond the call of duty.
Communication:
Outline an occasion when you had to deploy advanced communication skills to deal with a challenging situation in work.
Creativity:
Tell me about a time when you had to think creatively to get around a difficult challenge.
Leading teams:
Identify a time when you led a team.