'Dress for success' tips for men
By Liam Horan, Career Coach & Managing Director, Sli Nua Careers

Of late, we have received a number of queries from men about appropriate interview dress. Accordingly, we have invited style coach Claire Golden (www.clairegolden.com) to pen this contribution – we will ask her to do likewise for females in the next few weeks:
"The most important thing to do when you are going for any interview, regardless of the job, is to present yourself as smartly as possible. If you are unsure as to whether you should wear a jacket and tie, or something a bit more casual, always err on the side of caution and wear a jacket and tie. You never get a second chance to make a good first impression," writes Claire.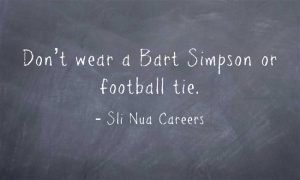 "The first decision is whether to wear a suit or separates. Either will work but keep in mind that suits tend to give a classier look and separates can be a little casual, though they do work. You could wear a grey or navy suit or a grey pants and navy blazer as separates.
"If you have a nice suit, I suggest you wear it: if not, maybe your brother will let you borrow his. Investing in a good fitted suit can be a good idea in the long run. You will always have it for other interviews and occasions and you will not have to worry again about what to wear.
"A good tip is to get everything sorted in one shop – suit, shirt & tie, belt and shoes. Explain what you are buying it for and don't be afraid to ask for help.
"Pick simple colours regarding a shirt and tie, for example, a nice blue shirt with light blue tie is very presentable, without being too 'in your face'. Also, you can't beat a crisp white shirt with a red or navy tie.
"Red is a powerful colour and very classy. Spend time selecting the right tie as it may be first thing they notice when you walk into the room. Don't wear a Bart Simpson or football tie.
"The same goes for socks: a logo peeping out is not a good look. Socks should be the same colour as your pants, grey with grey or navy with navy. No white socks as they do not look professional. I suggest you wear thin cotton socks: thick socks do not look right with a suit or pants.
"Wear good shoes. Runners are a no-no. Brown shoes can be very smart with grey or navy pants, if you only have black they will do too. Wear a belt that matches the colour of your shoes.
"Being calm and relaxed on the day of the interview is very important so have your outfit fully sorted the night before. Make sure your shoes are polished and iron anything that needs ironing.
"If you are not familiar with tie knots, do the knot the night before and have it ready to pull on. A crooked or unbalanced tie knot simply doesn't look the part.
"When getting dressed for the interview, take it easy on the Lynx and aftershave after your shower as you do not want to suffocate the poor interviewer. If you are inclined to perspire be sure to buy a good deodorant. Mitchum is a very good product.
"Remember to relax going into the interview: a tie can be uncomfortable but try not to fidget. At the end of all of this, you may have a new job."