Eight tips to make your job interviews easier – and better
By Sabina Trench, Career Coach, Sli Nua Careers

Eight tips to make your job interviews easier – and better
Job interview candidates can be very hard on themselves – they can magnify every error and minimise every good moment. This is not true of everybody, of course, but it does apply to a large number of clients I see.
Here are some practical tips to make your job interviews easier – and better, writes SABINA TRENCH, CAREER COACH, SLI NUA CAREERS.
1. Be realistic about what you can achieve in the interview – don't expect yourself to go in there and speak as coherently and as flawlessly Aengus Mac Grianna reading the Six One news. It's an interview, where you have to think on the spot: it's not an elocution test. Aengus has a script in front of him. You don't.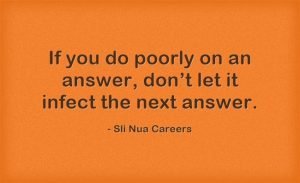 2. Prepare, prepare, prepare – but don't learn off. You're not starring in the winter production by your local drama group. Trying to remember lines will interfere with your natural communication and, as we have said here before, cause you to appear like a cardboard cut-out of yourself.
3. Understand that people 'um' and 'ah' all the time in conversation – and so they will in interviews too. Listen to great broadcasters (apart from Aengus' wing of the sector who come to battle armed with a script) and you will hear much umm-ing and ah-ing and starting and stopping. It's what happens when one is communicating and it's absolutely fine.
4. It's okay to pause – 'thinking time' is perfectly acceptable, as long as it doesn't endure for ten minutes, obviously.
5. If you're unsure about a question, ask the panel to clarify it before you plough off down the wrong road. To seek clarification is mature. They don't want you answering the wrong question either. You persisting to answer the wrong question does little to turn the interview into the kind of knowledgeable conversation it should be.
6. The interview does not have to be perfect for you to get the job – it is highly unlikely the successful candidate with top the poll in every category. Perfection is hard achieved. Yes, evaluate yourself after the interview under the various category headings (i.e. IT skills, previous experience, adaptability – whatever you sense is important to the interview panel) but don't crucify yourself just because it didn't run like a highly-choreographed Broadway production. That's not the standard you need to achieve.
7. If you do poorly on an answer, don't let it infect the next answer. An interview is a challenging arena: it is highly likely that at least every answer will not go according to plan. The same applies everyone else going for the job. If you get the opportunity, you can come back to elaborate on the earlier answer. And if you don't, c'est la vie. Remember that the interview does not have to be perfect for you to get the job.
8. Prove that you've got a good attitude. The importance of showing good attitude – and its first cousin, 'passion' – is frequently under-estimated by candidates. Yes, it is important to outline your professional competence, your experience to date, your training, and so on – but they need to feel that you want the job, that you will work hard and that you will do whatever needs to be done to make a success of your role. Remember the maxim: hard work beats talent when talent doesn't work hard.
Sabina Trench is a Career Coach with Sli Nua Careers, who have offices in Galway, Dublin, Limerick, Athlone, Sligo and Mayo, plus a full online service. Their services include CV preparation, interview training, personal statements and application forms.