By Liam Horan, Career Coach & Managing Director, Sli Nua Careers

Frequently you have nothing to lose in an interview.In an interview, they cannot take away from you what you already have. If you have a
job, you will still have that job when you go out the door.
If you are a student, you will still be a student when you go out the door. It is important to see an interview for what it is – an opportunity for the future, not a chance of losing
what you have.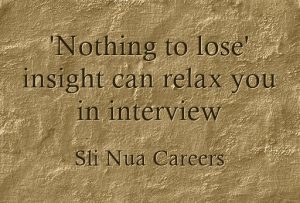 When you have nothing to lose, you should be able to perform better in interview. Take pressure off yourself. With nothing to lose, the dangers of nervousness intruding upon your
interview should be reduced.
Regularly clients tell me that they got jobs when they didn't expect them. "Because I thought I hadn't much of a chance, I was way more relaxed in the interview" said one.
So if "nothing to lose" is a desired state, approach all interviews as if you have nothing to lose. In reality, you don't. Use that insight to your advantage.
Liam Horan is a Career Coach with Sli Nua Careers, who have offices in Galway, Dublin, Limerick, Athlone, Sligo and Mayo, plus a full online service. Their services include CV preparation, interview training, personal statements and application forms.