How to present multiple jobs on your CV
By Sabina Trench, Career Coach, Sli Nua Careers

'Job hopper' is a term used to describe people with a chequered employment history – several jobs of short duration within a relatively short space of time. Does this sound like
you? If so, it may be holding you back from securing your next employment opportunity, writes SABINA TRENCH, CAREER COACH, SLI NUA CAREERS. So how can you present a lot of different jobs on your CV while avoiding the 'job hopper' tag?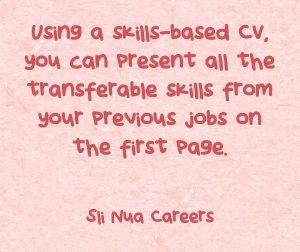 Your personal statement at the start of your CV provides an opportunity to depict a cohesive career. For example, six years sales and marketing experience with a further four years in customer service sounds solid, and clearly and concisely groups ten years' employment, regardless of the number of jobs or positions held. Another strategy is to explain the reason for leaving at the end of each job. This is commonplace on many application forms, and often there is a very valid reason for moving on.
Maybe it was a contract position; you left to travel overseas; or, as was the case for many people, you were made redundant. If you have had a series of contract positions, it is probably worth grouping all of those under one contract work heading. The benefits of this are two-fold: it helps to combine several years together and saves on precious CV space. I also suggest that you only use years instead of months and years for each job. For example, 2004 to 2006 sounds like two years, even if you did leave in May of the second year. I would also recommend omitting very short-term positions that lasted only a few weeks or months.
You may be asked to expand on these dates in an interview situation, but at least you are in the door, which is a step further that you may be today. Using the traditional CV layout where you simply list jobs may set alarm bells ringing for potential employers. Why hasn't this person stayed with anyone for more than two years? Why so many different jobs?
I recommend using a skills-based CV where you present all of the transferable skills you have accumulated from your previous jobs on the first page of the CV. For example skills such as ability to meet targets, customer service or proficiency on computers are just some of the things you might like to highlight in this way. Of course, you should only include those skills that are most relevant to the job opportunity at hand.
This approach works well in that it re-focuses your CV from the quantity of jobs in your past to the qualities you bring as a potential employee. It also ensures that you don't lose the valuable experience you have gained from a varied work history. Finally, don't miss the opportunity to use your cover letter to explain your mixed career. Take time to craft a letter that shows how your wide-ranging work experience is evidence of your versatility, high comfort level when it comes to change, and willingness to learn and re-train.
You can't turn back the clock, but you can certainly paint a different face on it. So embrace your unique career and use it to your advantage by re-working your CV today.
Sabina Trench is a Career Coach with Sli Nua Careers, who have offices in Galway, Dublin, Limerick, Athlone, Sligo and Mayo, plus a full online service. Their services include CV preparation, interview training, personal statements and application forms.