Transition Year – make it count
By Sabina Trench, Career Coach, Sli Nua Careers

Many students are now facing into Transition Year (TY) with a mixture of trepidation and excitement. This year offers a great opportunity to gain skills and experiences that should not be missed writes SABINA TRENCH, CAREER COACH, SLI NUA CAREERS.
What's the plan?
Starting with the school calendar, get planning for the year ahead. Some things will already be organised, such as trips away, class times and other events like the Schools Enterprise Programme or Gaisce Awards. Now, where are the gaps and what are you going to do with them? What are your interests and what would you like to achieve? It's now time to set some personal TY goals, so think SMART: Specific, Measurable, Achievable, Realistic and Timebound. So that you don't over-reach, I suggest that you set three to five goals for the year ahead, and if you achieve more, that's great.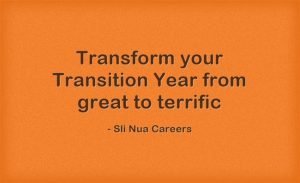 Work Placements
You have to organise work placements, and to get the best from these opportunities, I recommend that you think about this now. You really need to make sure that your placements are meaningful and linked to your interests. If you don't have a clue what you would like to do, try two placements that are completely different, say one office-based and one outdoors. Remember, your work placements don't have to be local. Do you have a relation with an interesting job somewhere around the country? Can you stay with a relation in one of the cities where niche TY work placements might be more plentiful? Try to steer clear of the easy options; the goal isn't to get a part-time job, rather it's your chance to sample a profession that appeals to you as a future career choice.
Awards, qualifications and competitions
This is a great year for you to complete your driver's theory test, qualify as a lifeguard or enter a competition such as BT Young Scientist for example. These are just some things that could appear on your CV in the future. Taking the initiative like this will show future employers how you followed your passions in a real way. There are also lots of great free online courses that could help you to decide what you might like as a future career. Check out www.alison.com for free courses ranging from typing skills to social media, marketing, photography and much more in between.
Volunteering, sports and community involvement
While you may have assignments and some academic work, it's likely that you will have more evening and weekend time to yourself. Why not get involved with your local community group, sports club or drama society? This is a terrific opportunity to get valuable "real-life" experiences such as event organisation, coaching, teamwork or fundraising. Volunteering offers great experiences that are transferable to the world of work, so contact your local Volunteer Centre to see what's available in your area. TY is your chance to develop as a person and a future professional that will stand you in good stead for the years ahead. And, don't forget, those who aim at nothing hit it with amazing accuracy, so avoid that trap with a TY plan that will transform this year from a great year into a terrific year.
Sabina Trench is a Career Coach with Sli Nua Careers, who have offices in Galway, Dublin, Limerick, Athlone, Sligo and Mayo, plus a full online service. Their services include CV preparation, interview training, personal statements and application forms. 
We have a dedicated section on our site for teaching positions – HERE