How to create an ePortfolio that advances your cause
By Liam Horan, Career Coach & Managing Director, Sli Nua Careers

Q: I have been hearing a great deal of late about ePortfolios. Some people I know have them and are adamant I should have one too. They work in graphic design and architecturec– my area is teaching. Do you see any value in it for me – I have to say that I struggle tocsee how one could help me?
A: Yes, ePortfolios or, to give them their full title, electronic portfolios, are certainly acgrowing trend, though it would be incorrect to say they have reached epidemic proportions. Personally, I think they are an excellent idea when properly executed, and teaching is one of the areas to which they are ideally suited, writes LIAM HORAN, Career Coach, Sli Nua Careers.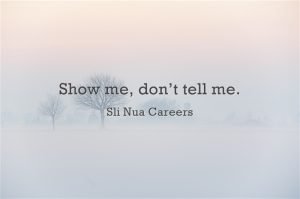 An ePortfolio is an electronic collection of items that illustrate your career development and academic and other achievements over a period of time. It may include things like photographs, videos, research projects, social media feeds, essays, certificates and anything else that can help to portray you in a positive light in your field. A few tips here on your teaching ePortfolio – these can be adapted for other sectors as well:
1. House your portfolio in one website. If you have a YouTube video showing you in theclassroom, you can embed that on your website, even though the video is actually hosted on YouTube. Make your website the one-stop- shop of you, the professional. Likewise with essays you may have had published on other websites – you can link to them from your own website. Having your own site transmits professionalism and consistency.
2. Assess the multitude of social media channels to see which ones suit you best – for a graphic designer, for example, the picture-based platform Pinterest could be ideal, whereas a Twitter feed might be more beneficial for somebody looking to get a break in sports journalism. See what works for you. In the case of teachers, YouTube can be powerful as it can show you delivering a lesson – 'show me, don't tell me.'
3. If you use PowerPoint or some other similar software package to deliver lessons, arrange those on your website too. In this way, you can show potential employers a great deal of what you do in the classroom – and this can have a great impact on the interview as well.
4. Get to the point. A 90-second video is more likely to be watched that a 20-minuteone.
5. Put a link to your e-Portfolio on your CV and cover letter.
6. Update your E portfolio regularly – you never know when you might need to use it again. If you leave it too long, chances are you will forget lots of good things you did along the way.
7. Blog – it is an excellent way of displaying your expertise. You can blog via your own website or through one of the many blogging platforms.
8. Remember not to post names or identities inappropriately – for example, if you are showing a video of you teaching in the classroom, it is imperative not to show the children. Better again, shoot this video in an empty classroom. You're the star of this movie.
Liam Horan is a Career Coach with Sli Nua Careers, who have offices in Galway, Dublin, Limerick, Athlone, Sligo and Mayo, plus a full online service. Their services include CV preparation, interview training, personal statements and application forms.