By Sabina Trench, Career Coach, Sli Nua Careers

As you edit and review your CV, keeping it to the recommended two pages, you realise you have omitted your referees. Is this a big deal? Does anyone contact them anyway? It is, and they do, writes SABINA TRENCH, CAREER COACH, SLI NUA CAREERS.
The very last section on most CVs is the referees' section, where you include a couple of referees to validate your CV claims. This presents a range of challenges depending on your career stage and the nature of your move.
Early graduate – without professional work experience, graduates sometimes find it hard to come up with two referees. You could include an academic referee, maybe the lecturer that supervised your thesis. However, in some colleges, staff are not allowed to give references, so this may not be possible. What now? This is where you need to be creative.Have you been involved in a local club or volunteer group? Would the chairperson be able to provide a good character reference for you?What about those last five summers where you were a Cinnire in the Gaeltacht? Or the time you climbed Croagh Patrick for a local charity? There are people here who know you, and could offer those referees that can be so important on a CV.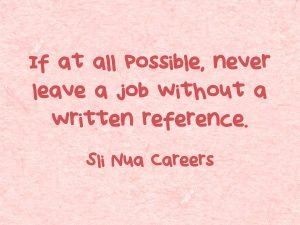 Job hopper (aka professional pivoters, to use theultra-modern term) – you have been in several jobs over the last ten years, and as a result have loads of referees to choose from. Here is where you need to be strategic. Going for an administrative role in an office environment? Then choose the referees most relevant to that role, and adopt that strategy for all job applications. We say it in Sli Nua Careers all the time: 'think relevant not recent.' The trap that some people fall into here is to try and include several referees on the CV instead. Think quality over quantity, as the likelihood that a potential employer will contact four referees is fairly low.
Competitive movers – This can be a difficult one. You are looking to move, and it's highly likely that it will be to a competitor in the same sector. Often a line such as 'Excellent references available on request' is useful here, but it still leaves a gap. We suggest you dig out a reference letter from a previous employer and include an extract from it in your CV under 'Referee Description'. It means that while you cannot name your current referees, it still offers some insight into your skills and characteristics. There is an important point for all readers here. If at all possible, never leave a job without a written reference.How many referees is enough? We recommend two referees on your CV. To make it easy for your new employer to contact them, include their name, job title, company name, address, contact email and mobile phone number. If you can't get a mobile number, a direct office number is equally good.Don't forget to ask your referees if you can include them on your CV. If you know that they have been contacted by your new employer, be sure to thank them for their reference (which we hope was a good one.). You never know when you might need them again.
Sabina Trench is a Career Coach with Sli Nua Careers, who have offices in Galway, Dublin, Limerick, Athlone, Sligo and Mayo, plus a full online service. Their services include CV preparation, interview training, personal statements and application forms.