12 things to remember when CV writing
CV Writing
By Mary O'Brien Killeen Trench, Career Coach, Sli Nua Careers

It can be the most challenging of tasks, writing your CV. Where to start? What to highlight? How to shorten? How to sell yourself? These 12 pointers will help you get on the right track, and will also assist you in writing your LinkedIn profile, writes MARY O'BRIEN-KILLEEN, Career Coach, Sli Nua Careers.
1. Know your personal strengths. Really know them. Write them down. Ask your family and friends. Sometimes we don't realise our strengths. Take time to identify yours. This is important in CV Writing.
2. Know your competencies. Competency-based interviews are all the rage these days. Know what yours are: what skills and competencies have you built up from education and / or work.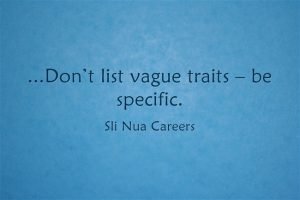 3. Know the area you would like to work in. This might sound an obvious statement, but many people are vague about their aspirations. Get specific. Find out what rocks your boat. And tailor your CV accordingly.
4. Know the value you'll bring to an organisation. If you are an engineer and you think you can save money for your potential employers, make sure you put that in your CV. It can come under your key competencies and, while is should certainly include evidence from the past, it should also be specific about how that can be put to good use in the next role. Ultimately the employer cares more for what you can bring to them than what you brought to your last place of employment. You must bring value.
5. List your voluntary activity, particularly anything that may be relevant in your area of work (i.e. a trainee Solicitor should mention the voluntary work he/she did for the Student Legal Services in college). Being a willing volunteer says a lot about you as a person. Use it to your advantage.
6. List your hobbies. These people have to work with you, day in, day out: let them know you are an interesting, wide-ranging person. Don't over-play your hobbies, but don't hide them either. Some of your hobbies may have strong parallels with the role you're chasing – look at your hobbies afresh and see if you can find those parallels.
7. If you've won awards, list them. They show you are an achiever, someone who commits to a project. Those are transferrable attributes.
8. Don't list vague traits – be specific. If you claim you're a hard worker or a highly-motivated person, prove your assertion with real examples. You will do more of this in the job interview.
Proof CV
9. Double-check the spelling. Make sure you use capital letters where appropriate. Get someone to look over your CV if you feel you're weak in this area. In fact, get someone to look over your CV, full stop.
10. Know your CV. Become familiar with it. A good CV will set the tone for the job interview.
11. Go for early impact. Some employers just glance at CV's. Make sure when they glance at yours, they see more than your primary school education details.
12. Tailor your CV for the very position you're targeting. Your CV can be tweaked from job to job – tweak it so that it best sells you for the next position. Don't treat your CV as a work of art that can't be amended. CV writing might not be the most pleasant task but having a winning CV make it worthwhile.
Get a winning CV HERE
Mary O'Brien-Killeen is a Career Coach with Sli Nua Careers in Claremorris, Co. Mayo.
Make a booking HERE  for CV Preparation, Application Form writing, Interview Training and Mock Interviews.