How to 'get going' without a college degree
Pic source www.pixabay.com
college degree
By Sabina Trench, Career Coach, Sli Nua Careers

Sometimes the assumption is that everyone will go to college and get a degree, but what about young job hunters who want to start their careers without a college degree? There are opportunities out there, and as deadlines and the end of the school year approaches, it's time to hustle writes SABINA TRENCH, Career Coach, Sli Nua Careers.
According to the Central Applications Office (CAO), 16% of Irish students who did the Leaving Certificate in 2016 did not apply for a college degree. So what are these young people doing? Some are studying PLC courses, but many others are taking their first steps into the world of work. If you are one of these people, here are some ideas to help you with your job search:
Apprenticeships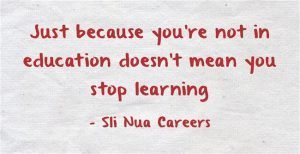 These opportunities are for those who already have their Leaving Certificate qualification. ESB Networks, Bus Éireann and eir are just some apprenticeship programmes but check deadlines and get applying. For most apprenticeships, you will need a minimum number of Leaving Certificate honours or passes, which will most likely include Maths and English/Irish.
There are also some private sector apprenticeships, and many of these can be found on jobs websites, such as www.indeed.ie or www.jobs.ie.
Of course, there are also direct apprenticeships, which you must find and apply for yourself. It's usually after the Leaving Cert. results come out when hopeful mechanics will drive from garage to garage with CVs in hand to secure a place.
Public jobs
An Garda Síochána launched its first recruitment drive for some time in September 2016, but this is now closed. However, it is reported that a further 3,200 guards will be recruited over the next four years.
Details of these opportunities will be available on www.publicjobs.ie, so sign up now for alerts. This is also the place for other public jobs, which can include entry level positions that do not require third level qualifications. Also keep an eye on www.localgovernmentjobs.ie or your local authority's website for any openings.
'Third sector' jobs
Every year there are job opportunities in the not-for-profit sector, and many of these can be found on www.activelink.ie. The jobs range from entry level to senior management positions, but it's still worth a look for young people hoping for a start on the career ladder.
Your local network
You may have held summer jobs, worked part-time, or had an enjoyable Transition Year placement that you loved. Why not contact the employer again with a view to getting full time hours? Chat to your friends, parents, neighbours and put the word out that you are looking for a job, but try to narrow it down to a sector or job type.
You may be able to hold down a full-time job while pursuing a post Leaving Certificate course and have the best of both worlds. Alternatively, you may not be ready to continue your education now, but with some time working in the 'real world', it might you a sense of what subject you would like to study later on.
It is never too late to return to education, and the fact that it is not for you right now is absolutely fine. Everyone's career path is unique to them. And remember, just because you are working and not in education shouldn't mean that you stop learning.
If you would like to make a booking with any of our career coaches, see HERE for CV Preparation, Application Form writing, LinkedIn Profile writing, Interview Training and other career services.
You can read more blogs from Sabina HERE
Sabina Trench is a Career Coach with Sli Nua Careers, who have offices in Galway, Limerick, Athlone, Sligo and Mayo, plus a full online service. Their services include CV preparation, interview training, personal statements and application forms.