How hitting 'the bottom line' can help you ace that job
'the bottom line'
By Liam Horan, Career Coach & Managing Director, Sli Nua Careers

In interview training, I regularly find myself 'encouraging candidates to apply their answers to the bottom line of their role or the organisation where they work, writes LIAM HORAN, Career Coach, Sli Nua Careers.
The bottom line is the raison d'etre. The bottom line is the reason for being there. The bottom line is the bottom line.
If you're a teacher, the bottom line is achieving enhanced teaching and learning in the classroom. If you're a restaurant manager, the bottom line is greater customer experience leading to greater profitability.
Candidates
I find Candidates often stop at a line above the bottom line where they talk of how 'everything went well' or 'it was very efficient' or 'we had no major problems'.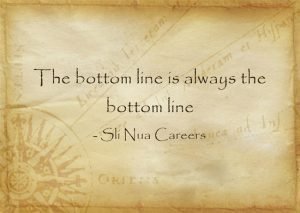 As phrases, those are just not explicit enough. They don't sell you. They are abstract and they are not memorable.
You need to go further when telling your stories or giving your examples in interviews. You need to get to the bottom line.
Questions to ask yourself
What was the real reason you were there?
Did you achieve that reason?
Generally, it will be to do with profitability or, in the case of teaching, enhanced teaching and learning. In other cases, such as in the public service, it might be the number of files successfully processed, the number of cases closed or the cost saving achieved.
There is always a measurement of the bottom line. There is always something that you're there to do.
Easy to forget
And we can all too easily forget that when we tell our stories in interview. We can get wrapped up in the doing without paying full attention to why we are doing it.
The 'why' is crucial: without a 'why', we run the risk of being a busy fool – or, in an interview scenario, of being seen as a busy fool.
It may be difficult at first to identify the bottom line in your job, but search around long enough, and you will find it.
Know your bottom line
Know your bottom lines inside out: more sales, greater profitability, more cases closed, better teaching and learning, or whatever the case may be.
The bottom line should include proof, evidence, something that the interview panel can hang on to as a very clear indication of how you have achieved relevant goals.
Equally, there is a bottom line in the new job you are trying to nail down. There is a measurement there for what success will look like.
Research
In your research, strive to learn just what that bottom line is. What really matters to the company? What really matters in this role? What would they like the successful candidate to bring in real terms?
A common error I encounter with candidates is a failure to make the interview concrete. It is as if there is something unbecoming about getting down and dirty to discuss the bottom line.
However, until you clearly illustrate that you know why you're there, and what you're actually trying to achieve, there is always the danger of uncertainty. You're hoping that the employer sees the value you bring, rather than ensuring that they do.
Interviews
In interviews, that is a dangerous chance to take. Insofar as is possible, you should aim to remove any possibility of ambiguity or misunderstanding.
Focusing on the bottom line will keep you honest. It will also keep the interview panel interested. Go there.
If you would like to make a booking with any of our career coaches, see HERE for CV Preparation, Application Form writing, LinkedIn Profile writing, Interview Training and other career services.