Interview questions – turning negatives into positives
Pic source www.pixabay.com
interview questions
By Sabina Trench, Career Coach, Sli Nua Careers

While interviews can include a predictable set of questions, there are often those curve balls that will cause you to sweat a little under the collar. With some advance preparation, you can turn those challenging interview questions into opportunities to prove why you are the best person for the job, writes SABINA TRENCH, Career Coach, Sli Nua Careers.
Tell me about a time when someone gave negative feedback about your performance?
I think it's fair to say that we have all had some criticism in our working lives. However, I would take an example from an earlier part of your career and show that how your inexperience led to the error. Then give an example that shows how you learned from the feedback, and emphasise that you welcome feedback.
Did you ever miss your targets?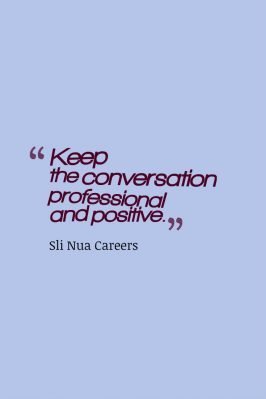 Suffice to say that if you are working in a target-led sector, you will have missed a target from time to time. Honesty is best here, and you should explain what happened and try not to lay the blame on everyone else. You should end your answer with a summary of what you would do differently now to ensure it wouldn't happen again.
Why are you leaving your current job?
This can be a tough question, especially if things aren't great with your current employer. However, steer clear of any negativity towards your current boss, and focus on the job at hand. There are several options to answer this question: no room to develop, looking for a new opportunity, or the company is taking a different direction for example. Keep it short, concise and simple.
What kind of decisions do you find difficult to make?
This question is more likely for a senior management position. You could go with several options, but how about something to do with staff discipline or even redundancies? No one likes to make decisions that affect people's lives, but if the new job involves people management, then it will show that you don't shy away from hard decisions. Alternatively, you could opt for an answer where you had two possible courses of action and had to make a 'management decision' based on the available information.
Is there a particular type of person you don't like working with?
I think it is important to start out with a clear statement that you aim to work well with all staff members. It's about the work, not the people. Focus on the qualities that you like to see in people, rather than those that are not there. This keeps you from getting into a negative spiral of complaining, and keeps the conversation professional and positive.
What is your greatest weakness?
You will get a lot of different advice about how to answer this question, some of which can come off as a bit clichéd in an interview. Regardless of the answer you choose, it should not be a weakness that hinders your ability to perform in the new job. A simple strategy is to pick a past weakness that you have fixed through re-training, increased self-awareness, or experience, for example.
Interview Questions
When it comes to negative questions, it's simple; 'you've got to accentuate the positive, eliminate the negative, and latch on to the affirmative, don't mess with Mister In-Between'.
If you would like to make a booking with any of our career coaches, see HERE for CV Preparation, Application Form writing, LinkedIn Profile writing, Interview Training and other career services.
You can read more blogs from Sabina HERE
Sabina Trench is a Career Coach with Sli Nua Careers, who have offices in Enniscrone, Galway, Limerick, Athlone, Sligo and Mayo, plus a full online service. Their services include CV preparation, interview training, personal statements and application forms.