First impressions of Ireland
By Siniša Bjedov, Erasmus Entrepreneurship Programme Participant, 2018
As a new Erasmus Entrepreneurship Programme participant, after a couple of days spent in Ireland, I can talk about my feelings and experiances with the country and the people I have met. Also, I must to highlight the positive role of my host Liam Horan, Sli Nua Careers, in my decision to come here. His friendly attitude really encouraged me.
In Budapest, where I was to catch the flight to Dublin, the Ryanair plane was two hours late, but, in the end, everything was good during this night-time flight and landing.
For the first time, I stayed a few days in Dublin with my cousins. It was a very nice time and they brought me around Dublin city and, thanks to the nice weather, the huge beach in Malahide. They told me that these few days might be the best of Ireland's summer. I left my town, Osijek in Croatia, and temperature was 32 degrees: in Dublin, it was 27 degrees, which is hot for Ireland.
After this stay, I took a train to Claremorris, where Liam picked me up and brought me to final destination, Ballinrobe. The train was an interesting way to see the interior of Ireland – many walls, domestic animals, hills, grass and green colour.
Ireland is completely different to my country. Everything was new for me. When meeting people, everybody ask me "how are you?"
I was in trouble to answer them because I do not know how I will start to explain them my condition. I took this question very seriously. Should I start with history of population Croatian on Balkan peninsula in the seventh century? Different amenities we have in Croatia, the fact that we drive on the right side of road, why do you have two taps in the sink here in Ireland?
Where to start – so much to tell.
But Liam explained to me that all I needed to say was "I'm not too bad".
Ballinrobe is a small but vivid town. Some might think it impossible, but I actually got a lost a few times.
When I moved into my apartment, I went to do some shopping. It was quite an undertaking because all products were absolutely new for me. I did not recognize anything. I purchased according to my heart or instinct and hoped that what I bought would be edible for me.
As you see, I am alive, so the food has worked out fine so far.
Some time ago, I was in Vienna and when I compare Dublin and Ireland with Austria I can say that in Austria is everything in strict order. In Ireland, people are not consumed by a need for order, but the atmosphere between people is much better here and I like it.
It is important for visitors to a strange country to feel good. My apartment is near the oldest pub in Ballinrobe – Biggins Bar – where the Guinness is really fresh and good.
What does Guinness taste like?
It tastes like more…
One of my goals in this Erasmus programme is to perfect my English language because I learned it but never was in daily interaction with native speakers. Liam and I, with the kind help of the Sli Nua Careers office manager Niamh, made an official picture for our Intermediary Organisations and published it on the Sli Nua website. You can see the post HERE.
Niamh showed me around the offices of Sli Nua. Very quickly Liam include me in one project about writing CVs. I was very excited about this because it was some language practice with phrases that I can recognise from my basic education.
Every day is school day.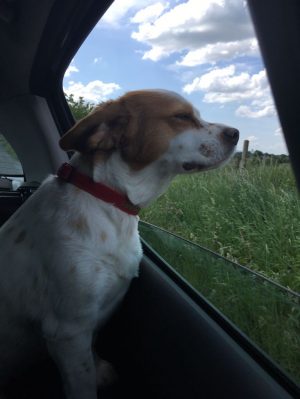 The most excited introduction of all was to Harris. He immediately won my heart. But he has no mobile phone and I don't think he likes to drink Guinness. Maybe I will steal him sometimes to spend some time to walk with him near the River Robe. You can see his handsome face here too.
See all our Erasmus participants blogs HERE