Guide to the CAO application process 2021
November 5th has arrived. That time of year when all Leaving Certificate students are prompted to start their CAO application. Yet, so many questions often remain, writes Colm Flynn, Career Guidance Counsellor, Slí Nua Careers.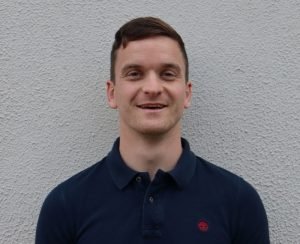 How do I start my application?

What information do I need for my application?

Can I edit my application, or do I have to get it right first time?

How much time do I have to complete it/What are the important dates?

How do I know what to put down on my application? 
These questions, along with many more are typical of all Leaving Certificate students right now. Don't worry, you're not alone! 
Starting your application
To start your application, you must log onto www.cao.ie and familiarise yourself with the home screen shown below. By clicking on 'Apply' you can begin your application, and on your return visits the 'My Application' tab will guide you back to your personal application.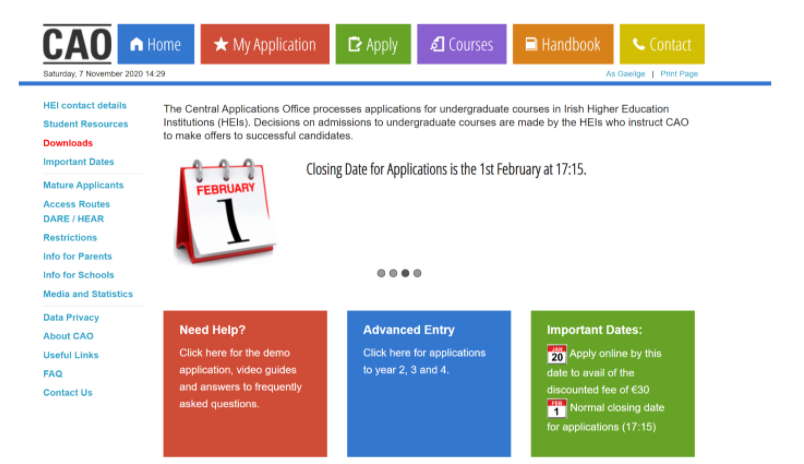 You'll receive a CAO number once you start your CAO application. Record and save that CAO number, as well as the password for your account. Keeping these safe and to hand will ensure easy access to your application at any time. 
What information do you need?
The application process is divided into six steps.
Step 1 – Registration
Step 2 – Qualifications and Assessments
Step 3 – HEAR
Step 4 – DARE
Step 5 – Maintenance Fee/Grants
Step 6 – Course Preferences
Important information on these steps is provided on the CAO website (down along the left-hand side of the home screen shown above), and also in your CAO Handbook. You can receive a hardcopy of your CAO Handbook from your school, or a digital copy on the CAO website.
Familiarise yourself with the CAO Handbook, all relevant CAO questions are answered from pages 1-24, with all colleges and college courses making up the remainder of the handbook.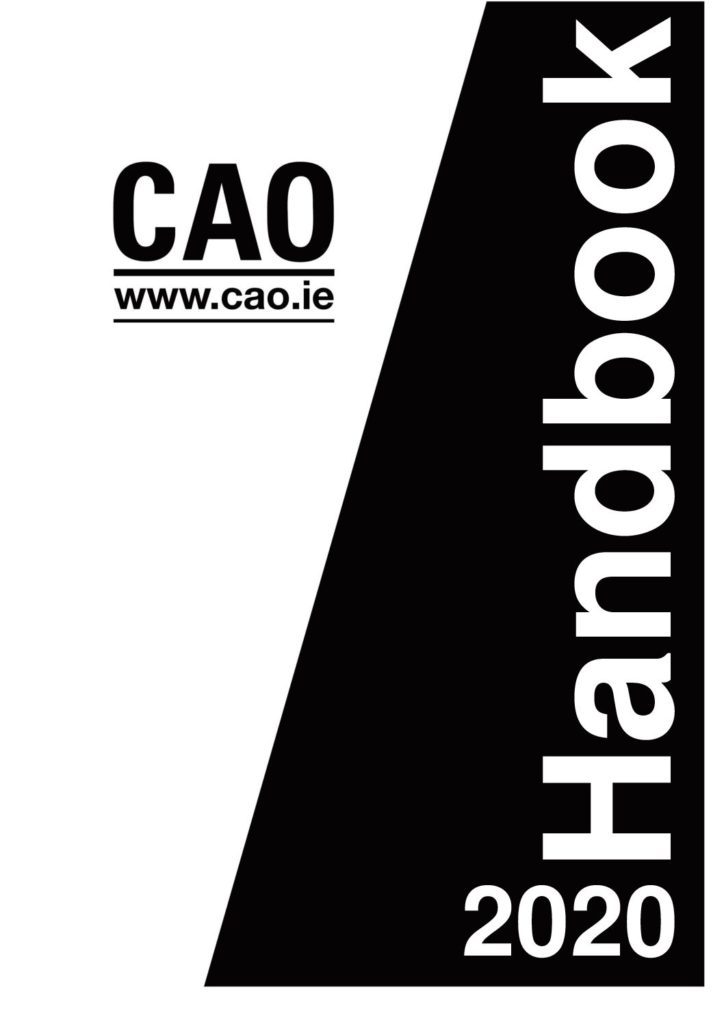 Filling out your application
The CAO website offers excellent information, step-by-step instructions, and videos, outlining all aspects of your application. I encourage you, and your parents/guardians, to utilise these resources before, and during, your application process. A Demo Application is also available on the website and should be used to help you understand the application process.
Important dates and deadlines
Important questions also remain in relation to closing dates of application. February 1st is the closing date for CAO applications, costing €45. If you apply before January 20th you can avail of the discounted application fee of €30. If you amend your course choices before the 5th February it will cost you €10. 
Other important dates related to late applications, HEAR/DARE applications, and change of mind facilities are all shown below. Familiarise yourself with these dates. Other important dates associated with specific courses and requirements are also available at www.cao.ie.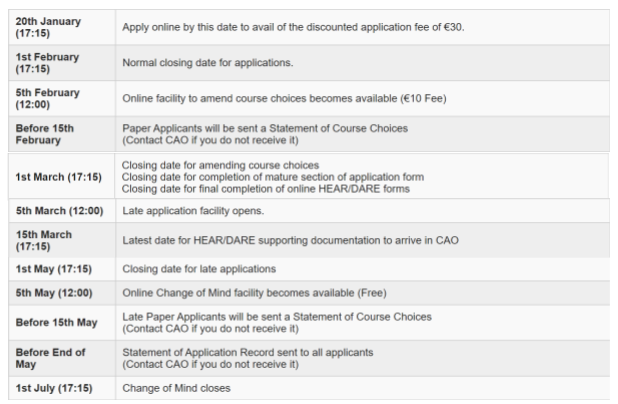 What to put down in your application
Ultimately, the most important part of your CAO application is deciding on and listing your Course Preferences. You will be given the option to apply for ten Level 8 courses and ten Level 6/7 courses. In deciding what college courses to put down on your CAO, try to do the following:
Book an appointment with your school's Guidance Counsellor to talk about and investigate possible options for you. Get your hands on a CAO Handbook and familiarise yourself with the important information and potential colleges and college courses.
Research, research, research.
This can be done effectively in the following ways: 
-Careers websites such as www.careersportal.ie and www.qualifax.ie. 
-Using various college Prospectus' to find out crucial information about courses you are interested in. It's vital to find out the entry requirements and course content of the specific colleges and courses you have in mind.   
-Register for, and attend, the virtual open days of colleges.
-Talk to as many people as you can that may be in the course you're interested in, have completed the course, or are currently in the career you are researching. These people could be family, relatives, friends, close acquaintances etc. and provide very hands-on practical information and advice. 
While all of the above information may seem daunting or a lot to take in, be sure to keep the following in mind:  
Ask your Guidance Counsellor for help and information at any stage of your application process.

Research your choices as much as possible and list your courses in order of genuine preference.

Keep a careful eye for all CAO correspondence, regarding your application or new information and updates.