Five ways you can turbo-boost your job search in 2016
By Liam Horan, Career Coach & Managing Director, Sli Nua Careers

For many people, New Year means new career. That can be a little shift to the left or right, or a 180 degree pivot into something completely different. Whichever one you are contemplating, there are certain rules to be observed, as outlined here by LIAM HORAN.
1. Chase jobs you can do. If you can't touch your toes, maybe yoga instruction is not the right call for you. If you're eyeing up a new sector, learn about the qualifications needed – and then find out if there are many unemployed or under-employed people with qualifications already lurking in that sector. By all means be ambitious in terms of what you think about, but keep it within reason.
2. Knock your CV into shape. Eight out of ten CVs I seerange from 'chronically bad' all the way up to, well, 'grand.' The 'chronically bad' ones compel employers and recruiters to transfer them forthwith to the wastepaper basket. A good candidate with a 'chronically bad' CV is a sad sight to behold. On the other hand, a 'grand'CV is neither good nor bad. Harmless. A grand CV leads only to the job-seeking equivalent of The Friend Zone. "Oh, he's grand," she insists, signalling the death knell for your hopes. 'Grand' is, well, 'grand'. Don't be there. Aim for more. Are you among the eight out of ten? If you are, get that CV up on blocks and give it an overhaul.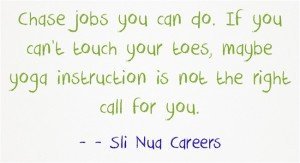 3. Tweak your CV every time. Think of employers and recruiters as buyers. Figure out what they are trying to buy – they publish their requirements in the job spec. If that doesn't provide enough, you can learn more from people working in the company, or people who previously worked there. When you've figured out what the buyer is looking for, amend your CV to meet it: bring relevant experience to the top of your CV and elaborate more on education or training that mirrors what the company is seeking in the successful candidate.
4. Talk yourself up. Even the most engaging of talkers, can clam up when it's lights, camera, action. Yes, interviews are un-natural and you don't want to come across as arrogant, but, there is no alternative, you simply must resolve to become your own PR agent in interviews. Don't be like the Irish man on Mastermind who passed on everything. "That's right, Paddy," came the approving shout from the crowd, "tell them nothing." If you want them to know you're the person for the job, tell them. Figure out in advance what they are looking for, and be that solution – and, if you're not, you're back to Point 1 above.
5. You may rail against this one but it needs to be said: perhaps you've got to try harder. Career change is demanding and often slow. It can be easy to lose heart. But if you lose heart, employers will lose interest in you. The onus rests with you to make it happen. Don't just go through the motions. Knock on doors. Write down everyone you know who might be able to put in a word for you somewhere or who might know about openings in the job market – and give them your newly-revamped CV. Draw up a job-searching plan and commit to it. Tweak your CV for every job. Register for all relevant job alerts. Use social media as part of your job-searching campaign. If you have a LinkedIn account, spruce it up: if you don't, consider getting one.
Sli Nua Careers (www.SliNuaCareers.com) have offices in Galway, Dublin, Limerick, Athlone, Sligo and Mayo (Ballinrobe, Claremorris), plus a full online service. Their services include CV preparation, interview training, mock interviews, LinkedIn profiles, personal statements and application forms. For more details, visit www.slinuacareers.com. View their 20-minute training video '15 tips to building a winning CV' here: https://goo.gl/o2hqOg