Tyrone #gaa manager Mickey Harte looks for 'Sli Nua' at Ballinrobe Enterprise Town Expo
WED., JUNE 22, UPDATE: Meant to get this up here sooner than this – here's Tyrone football manager Mickey Harte visiting our stand at the Expo. He is pictured alongside our MD Liam Horan. Mickey took time to visit every stand at the Expo and showed genuine interest in the businesses and the people running them.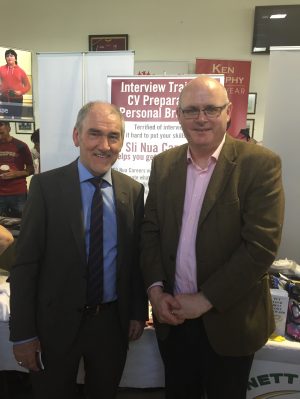 FRIDAY, JUNE 10: Three reasons why it's better to have your business based in Ballinrobe than, say, Bromley, London – so-chosen because it also starts with B, see what I have done there.
This evening, from 4-8, the business and voluntary organisations of Ballinrobe and surrounding areas put their best feet forward at the Ballinrobe Enterprise Town Expo in Ballinrobe Racecourse. Mickey Harte will be one of the guests. We have a stand there. More details HERE. Admission is free.
Afterwards, you can go watch Ballinrobe v Islandeady at 8o'c in the Division 1B of the Mayo senior football league – and even if Mickey Harte can't stay to attend, he can listen to the game live HERE on Ballinrobe GAA Club's own radio station
Cahir is beautiful this weather. The trees have been cut allowing an unmolested view right across to Tourmakeady. I am certain I could see someone drinking a coffee in Paddy's last night when I went down for my first swim of 2016. We all did a lot of growing up in Cahir, yet, in Cahir, you feel like you never grew up at all.
Nothing against you, Bromley, but beat that? In the interests of fairness, we thought we better give you this to help you make up your own mind.
Sli Nua Careers HQ is in Ballinrobe, and we have offices nationwide.