Survive the probe to land the job
By Liam Horan, Career Coach & Managing Director, Sli Nua Careers

The rise of competency-based interviews continues apace – more and more, we encounter clients who have been told that their upcoming interview will be a competency-
based one, writes LIAM HORAN, CAREER COACH, SLI NUA CAREERS.
We have previously dealt here with the START method we propose for competency- based interviews (https://goo.gl/KGAjpX if you wish to recap) and how it can help you get
the best out of yourself on the day.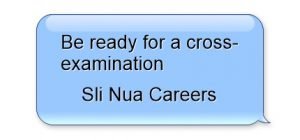 In brief, START stands for Situation, Task, Action, Result and Them, and it is a solid structure with which to answer those 'tell me about a time when…' or 'outline a scenario
where…' type questions that arise in competency-based interviews.
But START on its own is not enough. It's just that, a start. In competency-based interviews, you must also expect deeper probing after your initial answer on a topic.
So, you've used START to tell the story of how you showed leadership on a project, but the interview panel is likely to go further with questions such as "how did you feel", "what
did you learn", and "what would you do differently next time".
When preparing for competency-based interviews, therefore, be ready to do more than just tell the story. Be ready for a cross-examination.
Don't just know the stories you are going to tell to exhibit the competencies they seek: go beyond them to know the moral of the stories, and the real value of those experiencesto you as a potential employee.
Liam Horan is a Career Coach with Sli Nua Careers, who have offices in Galway, Dublin, Limerick, Athlone, Sligo and Mayo, plus a full online service. Their services include CV preparation, interview training, personal statements and application forms.