Eleven tips to spruce up your presentation style
By Liam Horan, Career Coach & Managing Director, Sli Nua Careers

To get that job, sometimes you've got to give a presentation. Death by PowerPoint doesn't just afflict the audience – the presenter can tank too. When you lose your audience, and they lose the will to live, chances are the contract won't be coming your way the following week, writes LIAM HORAN, CAREER COACH, SLI NUA CAREERS.
These eleven tips will help you do better presentations:
1. Remember that it's you you're selling, not the slideshow. The slideshow is merely a prop. They should occasionally glance at the slides and focus 95 per cent of the time on you. By being animated, enthusiastic, passionate and informative, you should compel them to listen to, and look at, you. If you align yourself too closely to the slideshow, you run the risk of merging into it – your aim is to highlight your skills, confidence and knowledge, not the slideshow.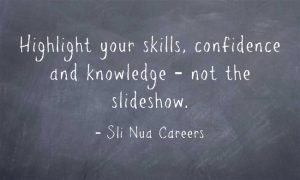 2. Move smoothly between the slides – have the next slide up a millisecond before you plan to speak about it. In this way, you make one presentation: rather than a series of mini-presentations on a slide-by- slide basis.
3. Don't read out to them what they can already read. People speed read. They will be at the end of the slide while you're still on an early bullet point and metaphorically – and perhaps literally – tapping their fingers on the table waiting for you to catch up. Audiences can be lost in a split second. Your words should complement, not repeat, what's on the slide. The words on the slide are prompts that trigger you to go further and deeper into the topic.
4. The language of the slides can be formal: your own spoken language can be less so. Passion, enthusiasm and knowledge are best transmitted by simple language.
5. Own the room. It's your allotted time: go for it. You might not get this chance again.
6. Be concrete in your examples. Paint pictures. Use anecdote. Give people imaginarynames. Say 'we had a client, let's call him John Murphy, well what John wanted…'
7. Use the 'I' word. This time, the product is you. Extol the virtues of the product. Nobody else will do it for you. Remember, you're not delivering a monthly report from your department to senior management.
8. Be prepared for the audience to appear disinterested. They may have taken a decision beforehand to be stony-faced. Or they may be stony-faced without even have to try. Feedback is great when you get it, but don't expect it: if you believe in what you are saying, you shouldn't need nods of approval.
9. Get your timings right – err on the side of caution. If they say you have ten minutes to do the presentation, plan to do it in nine. Or even in 8½. This will require you to rehearse repeatedly until you've it nailed down.
10. Your voice is a powerful tool – learn how to modulate it, how to slow it down and speed it up, so that it emphasises the message you're giving.
11. Be confident – chances are this you've already come through one or two stages of the interview process to get to this point. So they clearly think you have something to offer: that in itself is a boost to confidence.
Learn more about our Public Speaking & Presentation Skills training programme HERE
Liam Horan is a Career Coach with Sli Nua Careers, who have offices in Galway, Dublin, Limerick, Athlone, Sligo and Mayo, plus a full online service. Their services include CV preparation, interview training, personal statements and application forms.