Twelve top tips for great cover letters
By Sabina Trench, Career Coach, Sli Nua Careers

You have an excellent CV but what to do when it comes to the cover letter? Here are some top tips on how to approach your direct and speculative letters, writes SABINA TRENCH, CAREER COACH, SLI NUA CAREERS.
#1 Reference the job – If you are applying for a job that is advertised, make sure you reference the job title and/or code at the top of your letter. Remember, you may be applying for just one of many jobs in one organisation.
#2 Personalise your greeting – use a name if at all possible. Dear Sir/Madam is okay in some cases, but if you are speculatively sending out letters, try to direct your letter to one person as it may increase its chances of being read.
#3 Letter layout – if in doubt, use a traditional letter layout. This means your address at the top left, followed by the date, job reference and salutation, body of the letter and finish off with your name, contact number and email address.
#4 Introduce yourself – use the first paragraph to introduce yourself, what job you are applying for, or what is the purpose of your letter and CV submission.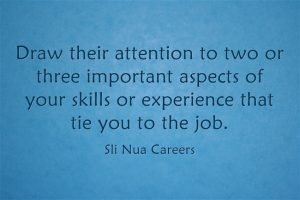 #5 Be specific – while you have included your CV, draw their attention to two or three important aspects of your skills or experience that tie you to the job.
#6 Tailor every letter – yes, you read that right. Every organisation you send your CV to is unique in its own way. Show them that you have done your research, know something about them, and weave it into your letter.
#7 A little bit about you – don't forget to tell them about you as a person and potential employee. You might have the qualifications and experience needed, but what sets you apart in the workplace?
#8 Emailing your letter – okay, so you are attaching your CV to an email, what about the letter? I recommend that you attach it a separate document also. Emails can print out in a weird format at times, and the email given might be a generic address to no one in particular.
#9 Channel your inner editor – you are more than likely including a two-page CV (that's generally what we recommend), so I recommend a one-page cover letter. You should have enough space to highlight reasons why you should be called to interview on three pages.
#10 Your parting shot – in the final paragraph, tell them you would be delighted to discuss your application at interview. Or if you are sending a speculative letter, that you will follow up in one week with a phone call, for example.
#11 Name it right – most companies request emailed CV and cover letter submissions, so name your letter JoeBloggsCoverLetter for example (the same format for CVs too, please). It can be frustrating for a recruiter or employer to get ten LetterFinal or CVFinal documents into their inbox?
#12 Keep it simple – letters haven't changed all that much over the years, but when did you last write one? Keep it simple, and follow a logical progression; intro, reason why you're writing, your particular skills matched to the company, you as an employee, and what you expect to happen next and finally, Yours sincerely (when you have a name for Dear Mr Bloggs) or Yours faithfully when you don't
Sabina Trench is a Career Coach with Sli Nua Careers, who have offices in Galway, Dublin, Limerick, Athlone, Sligo and Mayo, plus a full online service. Their services include CV preparation, interview training, personal statements and application forms.