Avoid distraction at all costs in job interview
Job Interview
By Liam Horan, Career Coach & Managing Director, Sli Nua Careers

Question
At the start of the job interview, the chairperson of the interview panel handed me my application form and said "you might wish to refer to it during the interview." It really threw me. It totally distracted me. Any thoughts? (AC, email).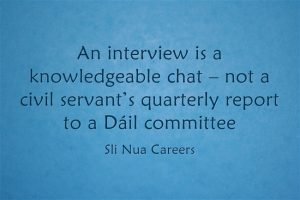 A: I've heard of this before in job interviews – but rarely enough – and my advice is very simple. To be mannerly, I would take the form. I would say 'thank you', writes LIAM HORAN, Career Coach, Sli Nua Careers.
And I would then put it on the table in front of me and forget about it entirely for the duration of the job interview.
A job interview is a knowledgeable chat
Yes, referring to your form can distract you. Remember, an interview is a knowledgeable chat – not a civil servant's quarterly report to a Dáil committee. You should allow the chat to unfold.
And you should be able to take part in that chat without having to refer to your application form. You should embody the form: you should know it, and your overall career history, so well, that you could articulate the key points at the drop of a hat.
They offered you the form. And that was very nice of them. You could decline to refer to it. That's your prerogative. Avoid distraction at all costs.
See our Interview Training services HERE