Job interview tips to show you will step up from 'the crew'
Job Interview Tips
By Liam Horan, Career Coach & Managing Director, Sli Nua Careers

Q: I want the job. Well, maybe not fully, but the reality is if I don't go for it and get it, you wouldn't know who they might bring in the door. The big question I will face is how I'm going to make the move from being 'one of the crew' to managing 'the crew'. How do I deal with this in the interview? (TR, email).
A: Do you really want the job? Before taking the next step, strip search your thoughts on this so that you are not setting yourself up for future angst, writes LIAM HORAN, Career Coach, Sli Nua Careers.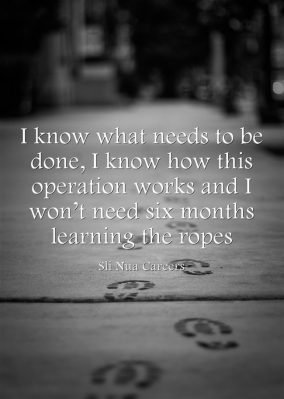 Let's agree, for the purposes of this reply, you really want the job. Getting people to 'step up' is a challenge for many employers face when they hire internally, and it explains why some go outside for a new person.
It is their prerogative to employ whoever they want.
It is your duty to show them what you bring to the position. I would make the following points:
Here are some job interview tips:
1. "I can adapt quickly to the job. I know what needs to be done, I know how this operation works and I won't need six months learning the ropes".
This is particularly true if there are technical or complex elements to the role, or, indeed, behavioural issues with colleagues. A new person coming in may align themselves to the wrong people and, before they know it, they will have dug a fresh hole for themselves.
2. "I am loyal to this company. It is this loyalty, and my belief in the company, that is driving me to go for this job. We all want the company to do well and I feel my knowledge and expertise, when placed alongside my loyalty and belief, will help me make a major contribution in this role."
3. "I know you may be wondering if I can step up from being one of the crew. I assure you I can. I will not be compromised in any way. There are many benefits to appointing me, as I've outlined earlier, and you can rest assured I will take the role seriously and be an effective and driven member of management."
I would not wait for them to introduce the topic of you stepping up.
If it is on their minds, and your question shows you clearly think it is, bring it in yourself: address it, show you have thought it through, and demonstrate that you're comfortable with the challenges it brings.
4. "I have plans for what I am going to do if and when I get this job. I will hold one-on-one and group meetings with the staff. In this way I will get to know where every employee is in terms of their work, and I will also outline my plans for the department.
My approach in these meetings will be to show them that power has not gone to my head, but that, yes, I will be a manager in the way the company requires me to be". Again, I would introduce this, or some similar approach, before they come with the 'what will you do in your first day, week/month in the job?' question.
Do winning interviews HERE