Seven tips to make the most of your public speaking opportunity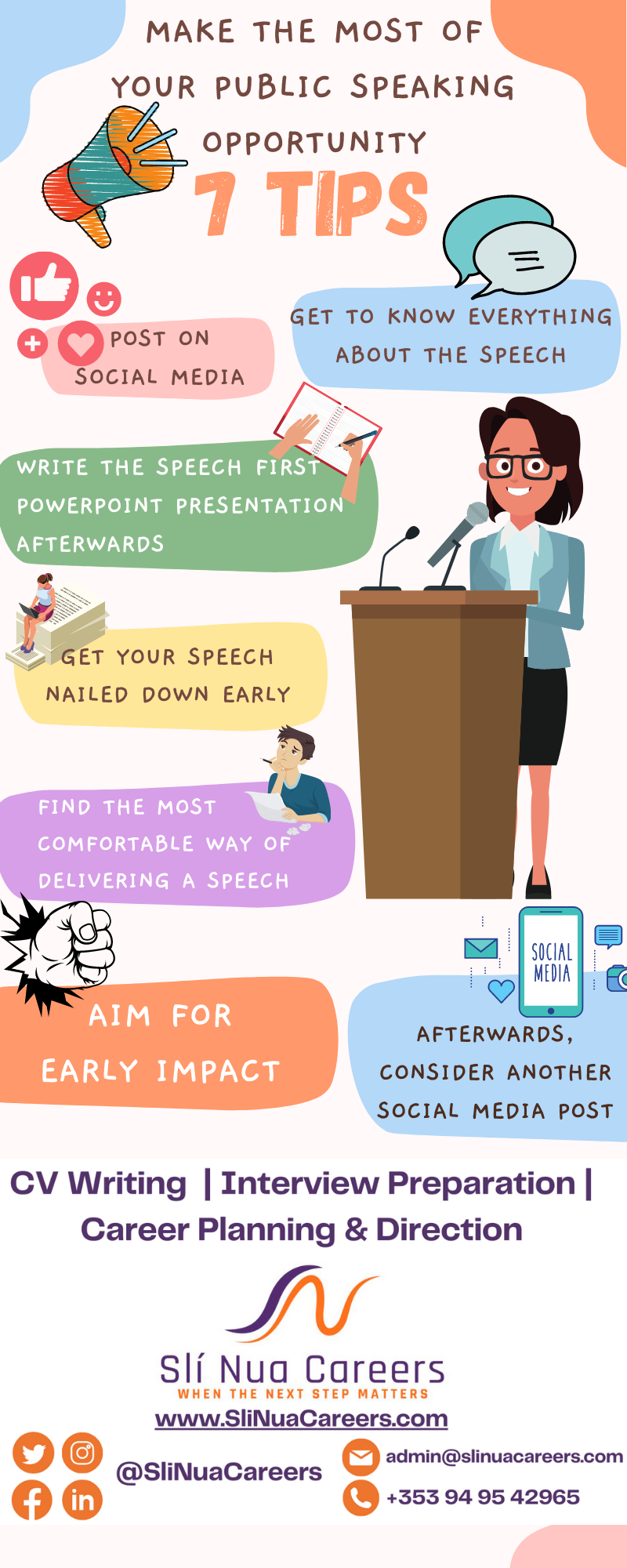 Q: I am completing an internship at a company in a month's time. Six of us came in on a graduate programme and I have been selected to deliver a wrap-up address at a significant company gathering. I must summarise the internship: what I learned and how I feel my future career will benefit from this experience. I'm told it's quite an honour to be selected and I want to make the most of it. Any tips? (OP, email).
A: Well done. It strikes me as an honour as well and you are right to try to maximise the potential it offers. Here are a few things to consider:
If you are a social media type, and if the company are okay with you publicising the event, you should post something on your LinkedIn account. For now, that can just be a short notice to say that you have been selected to deliver this address.
Get to know everything about the speech – the time slot allotted for it, whether you will be standing at a lectern, the expectation in terms of topics to be covered and the make-up of the audience. This is vital homework. There is so much you could say about a six-month internship – you need to be sure of the key focus for this speech.
Will you be delivering a PowerPoint or some other presentation? If yes, my preferred approach is to write the speech first, and then create the PowerPoint slides afterwards. I have seen people do the reverse and they end up desperately trying to retrofit their PowerPoint into the speech.
Get your speech nailed down early, perhaps even a fortnight beforehand. If you have been allotted five minutes, write a speech that you can deliver in 4½ minutes, tops. That takes the pressure off.
What's your most comfortable way of delivering a speech? Some people are very good at reading it out, while still transmitting the impression that they are just working off notes. Others like bullet points. Others like to learn it off. Which type are you? Perhaps you need to experiment to find out. Whichever way you do it, communicate directly with the audience. Delivering the speech is a huge part of the challenge: do it well, and they will rave about you. Struggle through it, or just do a dull read-out, and they will be mannerly and polite about it afterwards but it will be quickly forgotten.
Aim for early impact. Make sure the first sentence stops them in their tracks. This can involve a touch of humour, some business insights or intelligent observations about the company. But you must catch them early. People nowadays struggle to concentrate and while they might be looking at you, perhaps even nodding their heads in apparent agreement, the likelihood is they will be a million miles away if you don't capture their attention.
Afterwards, consider another social media post. In time, other recruiters and employers will notice this in your profile, and it could tip the balance in your favor in a job selection process. Even if you don't put it out on social media, make sure to add it to your CV. We must claim our successes.
Featured image courtesy of Pixabay.
Need our help? Complete this form below and we will get back to you