How to show you meet challenges head-on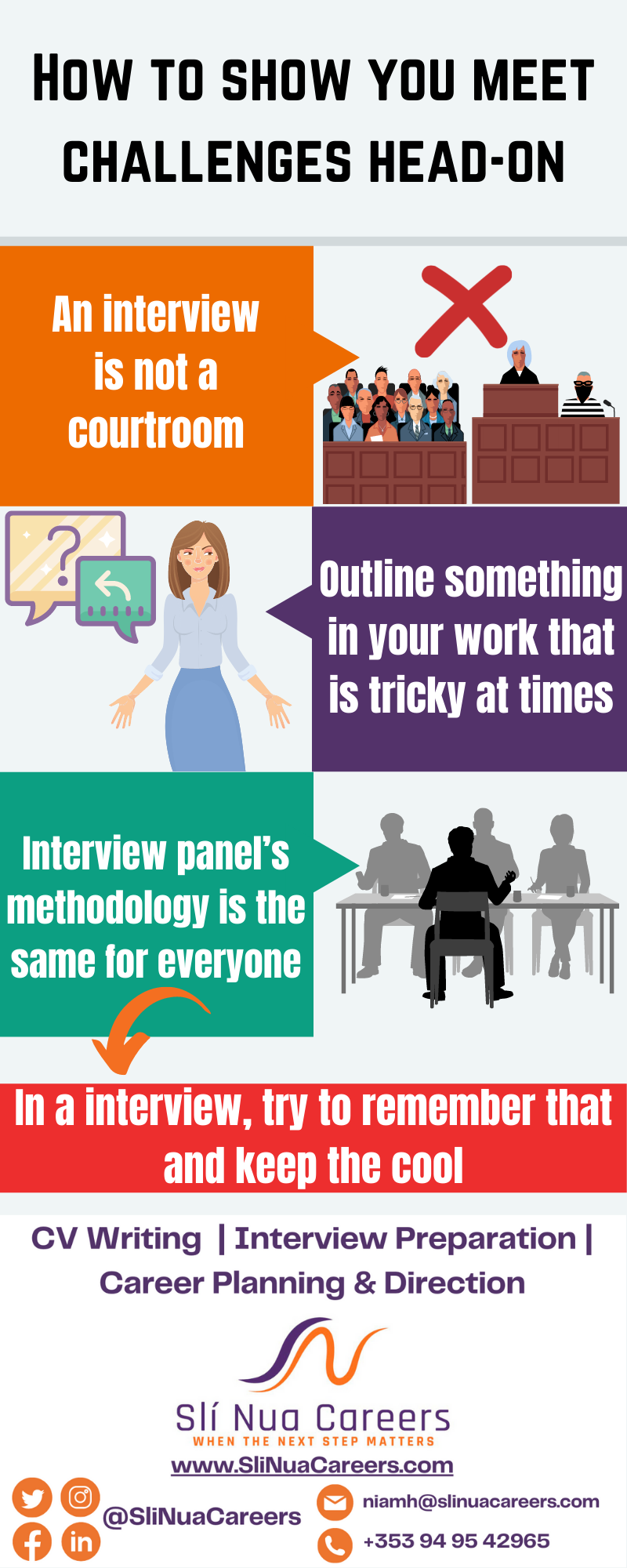 Q: In the job interview, they asked me what challenges I find most difficult in my current role. To be honest, while my job is tricky and at times challenging, there's nothing in it that I really struggle to do. I get through things well. They kept pushing for more detail and it felt like they wanted me to show something that I had completely failed on. Why would I say that? I don't want to sound like I'm not able to meet challenges head-on. Why should I shoot myself in the foot?
A: "You are not obliged to say anything unless you wish to do so but anything you say may be taken down in writing and may be used in evidence"…
An interview is not a courtroom – though you can certainly feel the sweat running down your back at times – and you should not say anything that would incriminate you. It sounds like the interview panel didn't fully understand why this question might have some value and they went too far with it.
Why would you tell them something that would represent a potentially fatal blow to your chances of getting the job? The short answer is that you wouldn't.
While this panel may have pushed too much, my general advice in this situation is to outline something in your work that is tricky at times, as you say, but not so tricky that it brings you down.
Perhaps you had to learn something new to enable you to carry out this part of your job. Maybe you needed to do a course. Or did you have to shadow a colleague? Or, indeed, every time you do this part of your job, do you have to refer to a colleague, manual or some other guidance of that nature?
Overcome the challenge
But you should depict challenges as things you meet head-on and overcome rather than events that knock you out. And, projecting yourself into the role you are now seeking, you should outline some things you will have to learn there as well that will allow you to be effective in the position.
There is no shame in having to learn something. In fact, covering up what you need to brush up on is a bigger no-no in an interview, I would argue.
I have had clients reluctant to answer this question at all. That's not a good way to deal with this question. That reluctance might even create unwarranted suspicions.
Another point I would say about the interview you attended is that the approach they deployed when interviewing you (i.e., pushing hard for more detail in the way you describe) was almost certainly their style when questioning the other candidates too. I know of candidates who have come out of an interview concluding that "it was crazy stuff, I haven't a hope of ever hearing from them again, let alone getting the job" only to discover that they had proved themselves to be the preferred candidate.
The interview panel's methodology is the same for everyone, by and large. So, when you're in an interview try to remember that and keep the cool. I'm not saying this realisation would have got you out of this scenario, but it can give you badly needed stability during the choppy waters of a difficult interview.
Need interview training? Go HERE
Featured image courtesy of Pixabay.
Need our help? Complete this form below and we will get back to you