How to recover from a bad interview
Q: I did a bad interview – there's no other way of saying it. I didn't need to wait for the inevitable PFO letter to know that I had gone down in a ball of flames. I was so hopeful beforehand, but it just ran away for me, and it felt like I couldn't stop digging. How can I make sure this doesn't happen again? (DG, email).
A: Bravo, you've admitted it. You've some chance of fixing a problem if you accept that it exists in the first place. Without knowing the ins and outs of the interview you reference, here are some things to consider: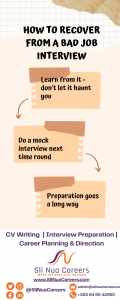 Be honest with yourself in identifying why you did a bad interview. Did nerves play a part? Did an early question throw you? Were you poorly prepared? There's a cure for most interview ills – in my experience, the cure almost always involves more, or more strategic, preparation. I elaborate on this below.
Learn from it – but don't let it haunt you. There will be other opportunities and the day will come when you can look back and smile – if not quite laugh – when you reflect on this experience.
Consider dropping a note on the company to thank them for the opportunity. If there's something you feel you should tidy up, do so, but don't try to replay the interview. 'Tidy up' could be something you answered poorly, or inaccurately – you've nothing to lose by clarifying something, and perhaps there could be a benefit from it. It's a long road that has no turning…
Are there specific actions you need to take ahead of future interviews? Sportspeople and actors use breathing exercises – should you? Would meditation help to settle you? Visualisation is another technique deployed ahead of a variety of challenging events – might that work?
As I mentioned above, preparation is ultimately the key. A mock interview has real merits. It is particularly useful if you haven't done an interview in a while, or if the last one you did didn't go well, as applies in your case. A good mock interviewer will box you into corners and thus sharpen up your instincts ahead of the big day. Driving in the car, or sitting on the bus, craft potential responses to likely questions. The better you prepare, the greater your chance of doing well on the day.
Retain your self-belief. The interview is not the job. Are you convinced you can do the job? If yes, a bad interview should come and go without leaving permanent damage. If you were iffy about your suitability for the role, you must expect that that uncertainty impacted on your performance in the interview.
Never forget that it's a real person they're hiring. There's a danger now that in your rush to correct everything that went wrong last time out, you will forget to allow your personality shine through in an interview. People hire people…
Employers love evidence of ongoing professional development. Are there short courses you should be doing? Any conferences or seminars you should be attending? These will also give your confidence a boost and, as I flagged above, the day will come when you can put your recent crash into perspective.
Featured image courtesy of Pixabay.
Need interview training? Go HERE for all types of interview
Need our help? Complete this form below and we will get back to you