Gold dust may lurk in your personal achievements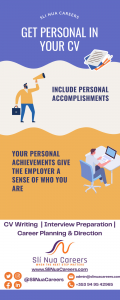 Q: In my CV, should I highlight stuff away from my work – for example, I've been part of a community group that has won a few national awards? Or are recruiters really interested in that? (DG, email).
A: Recruiters differ and candidates die. My bias tends to be in favour of including items of that nature.
Highlighting personal accomplishments and interests can give the employer a better sense of who you are as a person. Your resume is not just a list of your job experience and education – it's also an opportunity to show who you really are to the employer.
Flagging personal accomplishments and interests can also help to demonstrate your skills and abilities. Many personal accomplishments, such as winning a national award, require dedication and perseverance. By bringing attention to these accomplishments, you can show the employer that you possess the skills and qualities they're looking for in a candidate.
In conclusion, don't be afraid to mention your personal accomplishments and interests – they could be the key to landing your dream job.
Featured image courtesy of Pixabay.
Need a CV? Go HERE for all types of CV preparation
Need our help? Complete this form below and we will get back to you