Should I go for face-to-face or online interview?
Q:  I have been offered the choice of face-to-face or online for the interview. I dislike interviews at the best of times and I'm finding it hard to say which one I prefer. I have a good chance of getting the job as I have the experience they require, but I struggle to get the information across. Which option will give me the better chance? What would you do?
A: This is a simple way of asking a complex question. In an ideal world, I would go for a face-to-face interview. It makes the task of building rapport easier. it allows you to bring more of your personality into the interview and it also forces you into the zone.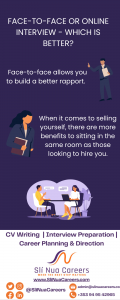 Building rapport is more difficult online. There is no body language, and the importance of body language in communication cannot be over-stated. Additionally, there is a danger of becoming more distracted online, both in terms of your preparation for the hour beforehand and during the interview itself. Face to face forces you into the zone. Concentration is an important requirement in any successful enterprise.
Of course, it may be that because of geographical factors, meeting face to face is not always a viable option. In this case, go for online but read up plenty about how you can do a better online interview. Don't presume that online is similar to face to face – they are vastly different exercises.
Weigh up the benefits of both
The interview panel will be together for the day to facilitate those who plump for physical interviews. The likelihood is that they are planning to conduct remote interviews while they all sit around the same device, I'd be even more inclined to go for face to face. People gathered around a laptop often doesn't work out. Nobody's face is fully in the picture, literally speaking. Would the HR Department tell you more about how they might run the online interviews?
I am not someone who resists online – in fact, I am very comfortable with all the great things online can do, but when it comes to selling yourself, I still think there are many more benefits to being in the same room as the people looking to hire you.
To deal with your broader concerns, don't overthink it. You mentioned you have the experience they're looking for – what does that mean exactly? Is it the technology you have used? Or have you managed workers in a similar enterprise? Have you been involved in projects of this nature previously?
What you want to avoid is making the interview feel like it's unrelated to your expertise. Strip away all the noise and figure out what they're looking for in the successful candidate.
Candidates can get themselves into a real knot as they seek to elevate their language. Remember that the purpose of the interview is to find the person who can best do the job: looked deeply what you have done to date and in there you will locate your best stuff.
Will it be good enough? Who knows, maybe they'll have a better candidate. However, it'll be the best you can offer. Ultimately, that's the most you can aim for in an interview. That's where you need to focus most of your attention in your preparation, whether you go for face to face or in online.
Featured image courtesy of Pixabay.
Need interview training? Go HERE for all types of interview
Need our help? Complete this form below and we will get back to you