How to 'curate' your career to interest potential employers
Q: I'm writing my CV for the first time in 24 years – and I don't know where to start. I've done so much across a range of sectors – to be honest, I think I've forgotten half of it. I've managed two large retail outlets; sold advertising for a magazine and website; managed a team of merchandisers; and even ran a community enterprise. How can I blend all this together so that it makes some sense without running to 20 pages? I'm at my wit's end trying to figure it out. (LF, email).
A: When writing our CV or, indeed, preparing for a job interview, we must think of ourselves as the curators of our own careers. I'll turn to the Tate Modern for elaboration: "Museums and galleries typically employ numbers of curators whose role it is to acquire, care for and develop a collection. They will also arrange displays of collection and loaned works and interpret the collection in order to inform, educate and inspire the public."
Care for, develop, arrange, interpret, inform, inspire…you should deploy the same approach when creating your CV. Look at your own career with a curator's eye. What should you bring home from far-flung fields to pique the interest of those who will visit the museum of your career?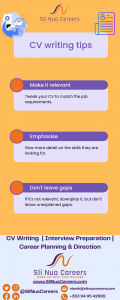 When you go to the aforementioned Tate Modern, you do secure in the knowledge that the curator has selected items you will want to see. They have separated the wheat from the chaff.
You trust their judgment. They have anticipated what you're looking for and they have travelled to the four corners of the earth to acquire the exactly right items. And therefore you get what you want from your visit.
I am labouring this analogy because I believe it to be a useful one. Just as they have thought through their visitor, so should you figure out who will be 'visiting' your CV?
Think first of what they would like to see. What is relevant to them? What parts of your career will get them interested? Not all segments of your career are born equal: craft and then tweak your CV to match the interest of the next recruiter or employer to whom it'll be sent.
If you're chasing a job in community development, make your community enterprise work the most prominent thing in your CV. Give it more lines. Mention it in your cover letter.
If you're eyeing up a job in sales, write up your hotel management role with an emphasis on sales. Write about achievements – total sales growth, new markets or customers and clever innovations. Talk about how your experience as a manager of merchandisers was underpinned by the requirement to stimulate sales.
And, of course, go big on the advertising sales role.
In short, highlight the kind of thing that will cause the visitor to stop and look at your collection for even a few minutes. Downplay the other stuff – but don't leave unexplained blanks. That 'other stuff' can go down the back of the museum; there, but not beckoning you to it.
Getting the idea? Curate what they want to see. Make that your guiding principle. That'll bring you a long way as you try to put shape on your CV.
Featured image courtesy of Pixabay.
Need a CV? Go HERE for all types of CV preparation
Need our help? Complete this form below and we will get back to you