How volunteering can bring real career benefits
Q: I'm new to Ireland and I want to get working and advance my career. I'm applying for various positions but haven't made much progress yet. Some people have told me that I should do voluntary work locally, but I'm not sure how much value that will bring at this stage. I really want to get paid work and don't want to waste time – volunteering for a local sports club or charity doesn't bring in badly needed money or get my foot on the career ladder. How do you think I should approach this? (LJ, email).
A: I don't believe the two are necessarily mutually exclusive. You can continue searching for work while also devoting some of your spare time to a worthwhile local charity, sports club, drama group, or whatever else rocks your boat.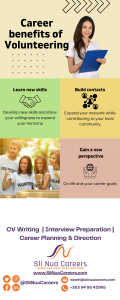 There is a tendency to see voluntary work solely as a way of giving back, but you can also benefit from it in your career. Through volunteer work, you can build good contacts, display your willingness to contribute to the community, and gain experience in your region.
These contacts could provide you with vital information about local companies that may be hiring and they may also introduce you to relevant people in those companies. Introductions and word-of-mouth are part and parcel of the recruitment world.
Additionally, people who see you working in a voluntary organisation will take notice of your skills and may suggest your name when a suitable opening arises, even just something part-time or temporary. Opening doors in this way can bring longer term benefits. When you're trying to establish yourself in a new area, a lot of the early steps you take will feel like small, insignificant ones.
See the benefits
If you are interested in a long-term career in the field where you are volunteering, there are obvious benefits. You can learn about a sector (e.g., non-governmental organisations, sports bodies, etc.) and gain valuable insight into how that sector operates in Ireland.
Furthermore, you can develop new skills. For example, you might learn about graphic design or social media management through your involvement in a sports club. It can be a chance to attach your name to a significant local brand and get noticed. You may also learn about project management, teamwork, communication, and leadership – all valuable skills that are highly sought after by employers.
The trick is to bring it all together – to show the full 'you'. Use your volunteer experience wisely in your curriculum vitae and talk about it in interviews.
Being connected to a local organisation can help 'localise' you, so to speak. Talking about football or the latest stage production can help you build rapport with recruiters, employers, and interviewers. Don't underestimate the value of this in the present phase of your career.
Volunteering will also help you in many other areas, including the important matter of making friends. So, keep applying for jobs, but also consider getting involved in something that will give you purpose and excitement beyond the working hours.
Finally, volunteering can help you gain a new perspective on life and your career goals. By working on projects and tasks, you can challenge yourself, stay motivated, and feel good about making a positive impact in your community. There's more to life than work, as our experiences in the pandemic so clearly demonstrated.
Featured image courtesy of Pixabay.
Need a CV? Go HERE for all types of CV preparation
Need our help? Complete this form below and we will get back to you