Liam Horan, Sli Nua Careers, completes EU funding studies programme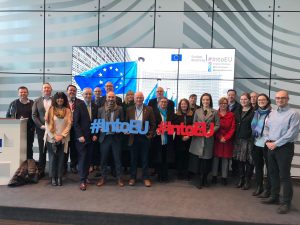 Liam Horan, Managing Director, Sli Nua Careers, was one of 21 leading professionals across the north and west region of Ireland who recently completed an EU Studies Programme in Galway and Brussels.
The programme was designed to increase knowledge of EU funding programmes and how they can be accessed to bring real value to the region.
The Northern and Western Regional Assembly (NWRA), Galway Technology Centre (GTC) and the Irish College in Leuven, Belgium, teamed up to run the programme.
"The study programme allowed people from a wide range of sectors to gain a deep understanding of the workings of the EU. These sectors include local authorities, government agencies, higher education institutions, regional organisations, SMEs and representative bodies," said Brendan Mooney, EU Programmes Executive, NWRA.
Participants visited the EU Commission, the EU Parliament and various other European institutions focused on innovation, entrepreneurship and partnerships.
"All who participated in the programme, which took place over six days in Galway and Brussels, have developed the kind of expertise this region needs to maximise the opportunities available in Europe," said Niamh Costello, General Manager, GTC.
Among the topics covered were Law-making and EU Institutions; Lobbying and Networking; EU Applications; and EU Regional Policy.
"It is a very opportune time to study the EU because new funding programmes start in 2021 that will continue until 2027. Thus we are now in a period of change in the EU and the members of our study group are now well positioned to react to this change. It is also a crucial time for us here in Galway Technology Centre as we embark on our ambitious AcademyWest development programme which will drive the creation of over 500 direct jobs, and for which we recently secured over €4m in government funding," said Frank Greene, Chairperson, GTC.
Speaking about the NWRA's recently launched #EUINMYREGION campaign and Region in Transition report, Brendan added: "The Northern & Western region has been reclassified from a more 'Developed Region' to a 'Transition Region' by the European Commission.
"Through the publication of the Region in Transition report, we have provided evidence of the capacity for greater EU and government investment in the region's key growth enablers. 'Positive Discrimination' is a policy adopted across many EU and international economies to address inequality.
"If regional gaps in GDP are too large and remain consistent over time, this will lead to further economic decline. It is widely accepted that gaps in output tend to be accompanied by high levels of unemployment, low levels of disposable income and prolonged population shifts.
"We hope the evidence presented will inform national public policy but also assist constituent stakeholders with relevant data in their own work. The report is accompanied by a set of high level recommendations."
The full list of study group members was: Collr Joe Sheridan, Galway; Turlough Rafferty, GMIT; Geraldine Courtenay, Sligo Chamber.; Kenneth Deery, Galway Chamber; Dave Hickey, Galway Chamber; Patrick Devine, NWRA; Collr Donal Gilroy, Sligo; Brendan Mooney, NWRA; Elaine Donohue, BIA Innovator Campus, Athenry, Co. Galway, Frank Greene, GTC; Liam Horan, Sli Nua Careers; Susan Ní Churnáin, Údarás na Gaeltachta; Christine Charlton, Westmeath Co. Co.; Helena Deane, WestBIC; Niamh Costello, GTC; Ailish Irvine, Irvine Training; John Bartlett, IT Sligo; Elle Gough, Learn International; Stephen Carolan, Western Development Commission; Michaela Reilly, Chambers Ireland; Ian Brannigan, Western Development Commission.