How to strike the right tone in community work interview
Q: My friend is going for an interview in a fortnight as a community development worker with a youth organisation. The role will involve helping young people growing up in difficult circumstances to get involved in activities such as sport, drama, art, volunteering and the like. She is newly qualified in this area but hasn't a breeze what kind of questions to expect in the interview. I've agreed to put her through a mock interview next week and would like to have an idea of questions I could ask her – and possible answers for them in general terms? (LC, email).
A: As her friend, you are doing a good turn by supporting her in her preparation for the interview – practice makes perfect. Here are some potential questions you could ask her, along with tips on how she might bring into her answer: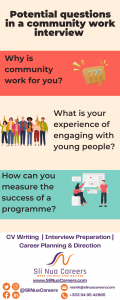 What inspired you to pursue a career in community development?
This question is designed to help the interviewer understand your friend's motivations. Motivation is crucial in such a demanding arena. A good answer will demonstrate a passion for helping others and a desire to make a positive impact in the world. Your friend can talk about personal experiences or challenges that led her to pursue this career path, as well as any relevant volunteer work or internships she may have undertaken.
What experience do you have of working with young people?
Get her to highlight work experience, volunteer work, or internships she has undertaken. Go deep – even a week on a summer camp could be of value here. The answer will be much richer if she has specific examples of how she has helped young people in the past, such as coaching a youth sports team, mentoring a young person, or organising a community event.
How would you go about developing programmes that would engage young people in your community?
Get this one right and she will demonstrate a strategic mindset and a willingness to collaborate with others. Encourage her to focus on any experience she has of working with diverse groups of people and her ability to identify the needs of different communities. She can also discuss her ideas for programmes that would be beneficial for young people in the community.
How would you handle a situation where a young person is experiencing a difficult situation, such as family problems or substance abuse?
Her aim here should be to demonstrate empathy, compassion, and an understanding of the resources available to young people in need. The answer could also include training she has received in crisis management or counselling, as well as her experience of  working with vulnerable populations.
How do you measure the impact of your work with young people?
She will impress the interview panel if she demonstrate a data-driven mindset and an understanding of the importance of tracking progress over time. Your friend can talk about her knowledge of setting metrics for community programmes, as well as her capacity to analyse data and adjust programmes as needed. Maybe she hasn't done that in a work setting, but has she studied it the theory of it? The importance of measuring programmes is something she may not have considered heretofore, but, ultimately, programmes must be able to provide insightful data to ensure a funding pipeline.
Featured image courtesy of Pixabay.
Need interview training? Go HERE for all types of interview
Need our help? Complete this form below and we will get back to you